Not all styles work well with SketchUp's default settings for selection colors or the display of hidden geometry, section planes and cuts, guides, and more. If you are color blind, changing these settings can also help you see SketchUp's modeling cues more clearly than you can with the default settings.
In the Styles panel, the Edit tab has a Modeling Settings pane, shown in the following figure. Here you can customize colored visual cues and choose what cues, such as section planes, do or don't appear. You can save these selections with the active style.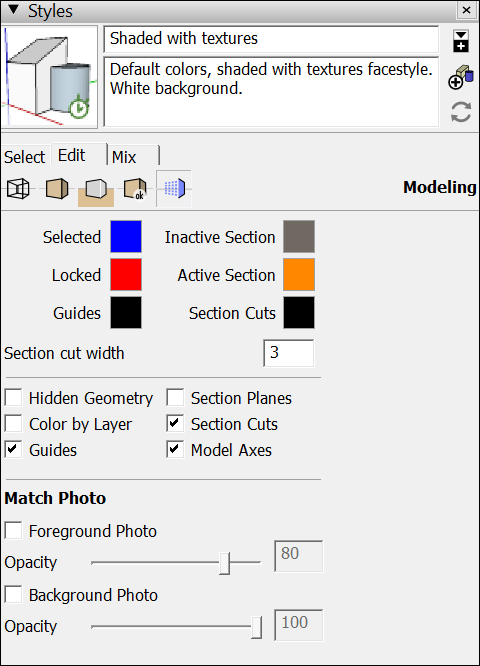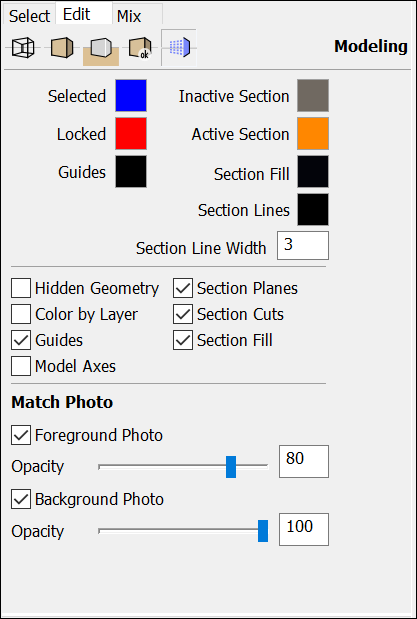 Here's a quick overview of what the settings do:
Color swatches: Click a item's corresponding color swatch to choose that item's color. For example, if you'd like locked geometry to appear yellow instead of red, click the color swatch and use the color picker that appears to select your desired color. See Mixing Colors in the Color Picker for details about selecting colors.
Section cut width: Enter a number to define the thickness (in pixels) of all cut lines in the active section plane.
Check boxes: For any item you'd like to appear in your style, select its checkbox. For example, if you'd like section planes to be visible, select the Section Planes checkbox. If you want to keep the axes hidden, clear the Model Axes check box.
The Match Photo settings enable you to control how photos appear when creating a 3D model with the Match Photo feature.