With a subscription to the 3D Warehouse catalog features, you can monitor the analytics for your 3D Warehouse catalog. On the Analytics page, you can see an overview your catalog's views, downloads, and likes. You can also track the performance of specific collections or models.
To access your Analytics page, follow these steps:
Log in to the 3D Warehouse.
From the user menu, select My 3D Warehouse.
On your My 3D Warehouse page, click the Analytics tab on the far right, as shown in the following figure.

Tip:
If you don't already subscribe to the 3D Warehouse catalog features but are interested in adding features such as analytics to a 3D Warehouse collection, contact the
Sales team
for the 3D Warehouse and manufacturers.
The following sections introduce each section of the Analytics tab and how to discover details about your catalog and the models and collections within it.
Filters
By default, you see a date filter that enables you to see analytics for a specific date range. Click a date box, and you can select a new date in the calendar that appears. After you select an option, the view automatically updates.
If you limit the view to a specific model or collection in the Performance area, a filter for that item appears in the Filters area, too.
Performance
The Performance area contains three tools, shown in the following figure:
A graph of your views, likes, and downloads
A table that enables you to see specific metrics for your catalog and for each model and collection
A quick look at the shares, likes, tweets, and pins for Google+, Facebook, Twitter, and Pinterest
Tip: In the table, click the arrow next to a model or collection's title, and you see analytics specific to that model or collection.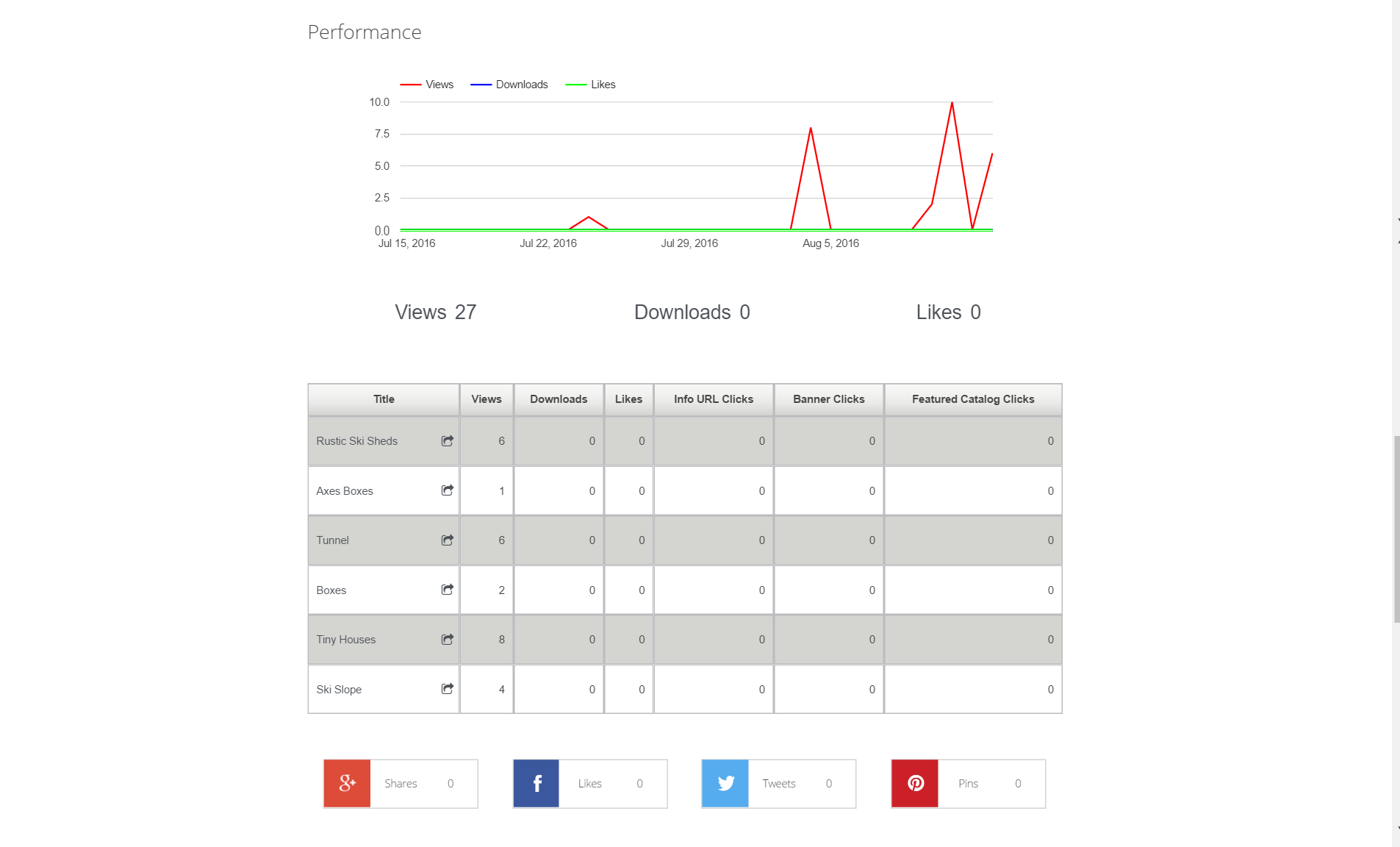 Geography
In the Geography area, shown in the following figure, click areas on the map to see analytics for specific geographic regions.
TAGS