Using keyboard shortcuts is one of the best ways to model faster in SketchUp. When you use the R key to activate the Rectangle tool, you don't have to move your mouse cursor away from what you are drawing to a toolbar or menu. And you also don't have to stop thinking about what you are modeling to start thinking about where the Rectangle tool is.
This article describes learning SketchUp's keyboard shortcuts and learning to use them to model faster.
Default keyboard shortcuts in SketchUp for Web
SketchUp for Web's default keyboard shortcuts are nearly identical to those of desktop SketchUp. If you find yourself using a tool frequently, you can simply look up its shortcut by searching in SketchUp for Web. While not every tool has a default shortcut, the shortcuts that are available are displayed with each search result.
When starting out with shortcuts, we recommend that you start by learning the ones for tools that you use the most. Here are some default shortcuts you might use frequently:
Select (Space bar)
Line (L)
Eraser (E)
Arc (A)
Rectangle (R)
Circle (C)

Push/Pull (P)
Paint Bucket (B)
Move (M)
Rotate (Q)
Scale (S)
Tape measure (T)
While you are using SketchUp, you can look up shortcut keys using the Search tool. For each tool or command, Search provides a brief description as well as a reminder about the assigned keyboard shortcut. If there is no shortcut for a tool you use a lot, you can set one.
There are also mouse shortcuts in SketchUp. The most important one is activating the Orbit tool by holding down the mouse scroll wheel. Learn more in Viewing a Model.
For the best experience with shortcuts in SketchUp for Web, we recommend using Google Chrome or Microsoft Edge.
Customize Shortcuts
Whether you want to add a shortcut to a tool that doesn't yet have one, or reassign a default shortcut, you can assign or modify shortcuts for any tool or command that is available in Search.
To assign a tool's shortcut, first look up the tool in Search. Then, hover over the search result and click on either the current shortcut key or the empty box that appears (when there is no shortcut for a command).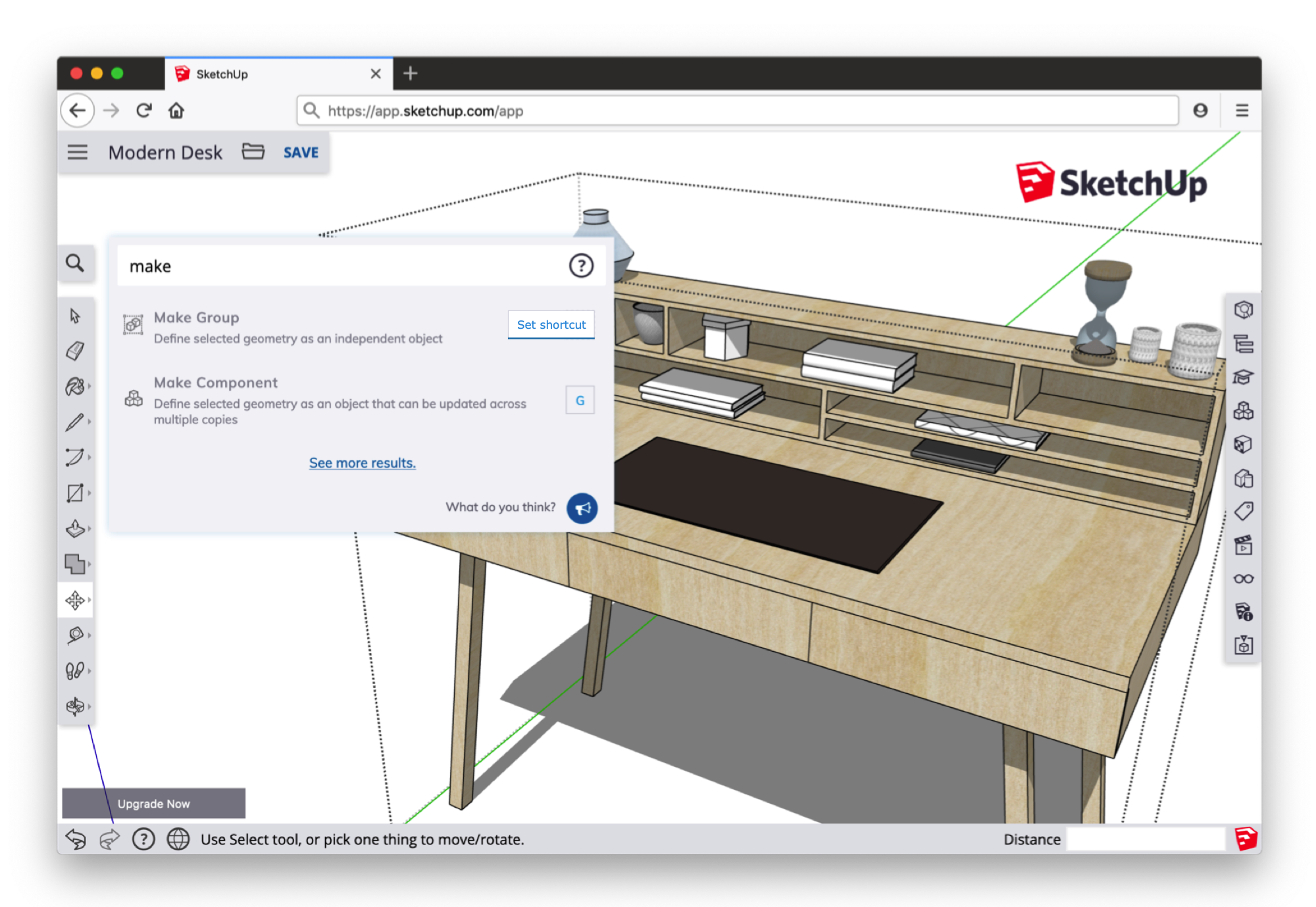 An input will appear with the prompt Set shortcut. Simply press the shortcut key (or modifier + key combinations) and your shortcut will be immediately assigned.
For the most part, you can customize the keyboard shortcuts how you like, but here are a few guidelines to help you understand what keys are (and are not) available as shortcuts.
In addition to using letters and some punctuation keys, you can also use Shift and Alt/Option. Neither the CTRL key (Windows) or the Command key (Mac) is available as a modifier key.
You can't assign a number key as a shortcut without using a modifier (such as Shift, or Alt/Option).
You can reassign default keyboard shortcuts. For example, by default, the O key is the shortcut for the Orbit tool, but you can reassign the O key to the Open, or Offset command if you like.