When you launch the SketchUp Viewer app for the first time, or if you haven't signed in for 28 days, you'll be asked to sign in.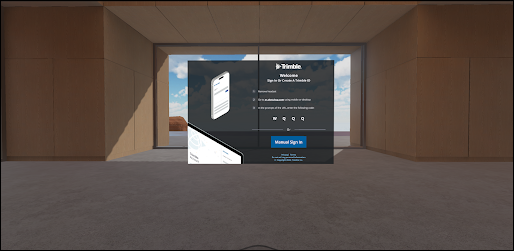 SketchUp Viewer for Quest offers two different sign in options, Device Token Authentication or Manual Sign In.
Device Token Authentication
Device Token Authentication is when you generate a token that will authenticate you and sign you into SketchUp Viewer on your Quest device. To sign in using Device Token Authentication follow these steps:
Choose to sign in using a token.
Make note of the four-digit code you receive from the sign in panel.
Remove your headset.
On a web browser or other mobile device visit xr.sketchup.com.
When prompted, enter your four-digit code.
Sign in using your Trimble ID or preferred 3rd party sign in option. If you don't have a Trimble ID, see Trimble ID for more information.
Return to your Quest Device. You should now be signed in.
Manual Sign In
With Manual Sign In you can use your Trimble ID to sign in using the Quest Browser by following these steps:
Click Sign In.
Enter your Trimble ID or your preferred 3rd party sign in option.