SketchUp for iPad offers robust customization options to help you match the interface to your unique workflow.
Shortcuts Toolbar
SketchUp's floating Shortcuts Toolbar keeps your favorite tools where you need them for when you need them.
To activate the Shortcuts Toolbar, open Preferences (

) and select the General tab. Switch the toggle under Shortcuts to the on position. The Shortcuts Toolbar will appear in the upper right of your screen.

When first activated, the following tools appear in the Shortcut Toolbar by default:
X-Ray
Hide Rest of Model
Hidden Geometry
Unhide All
Select None
Select All
Zoom Extents
Previous Tool
While the Shortcuts Toolbar starts in the upper right corner, you can always move it anywhere you like. To move the toolbar with the Apple Pencil or multitouch, hard press then drag the toolbar. With a mouse or trackpad, click and drag the toolbar to move it. If you move the toolbar to either the lower left or upper right corner it will snap into place.
Radial Toolbar
The customizable Radial Toolbar is a great way to organize and access all the tools available in SketchUp for iPad.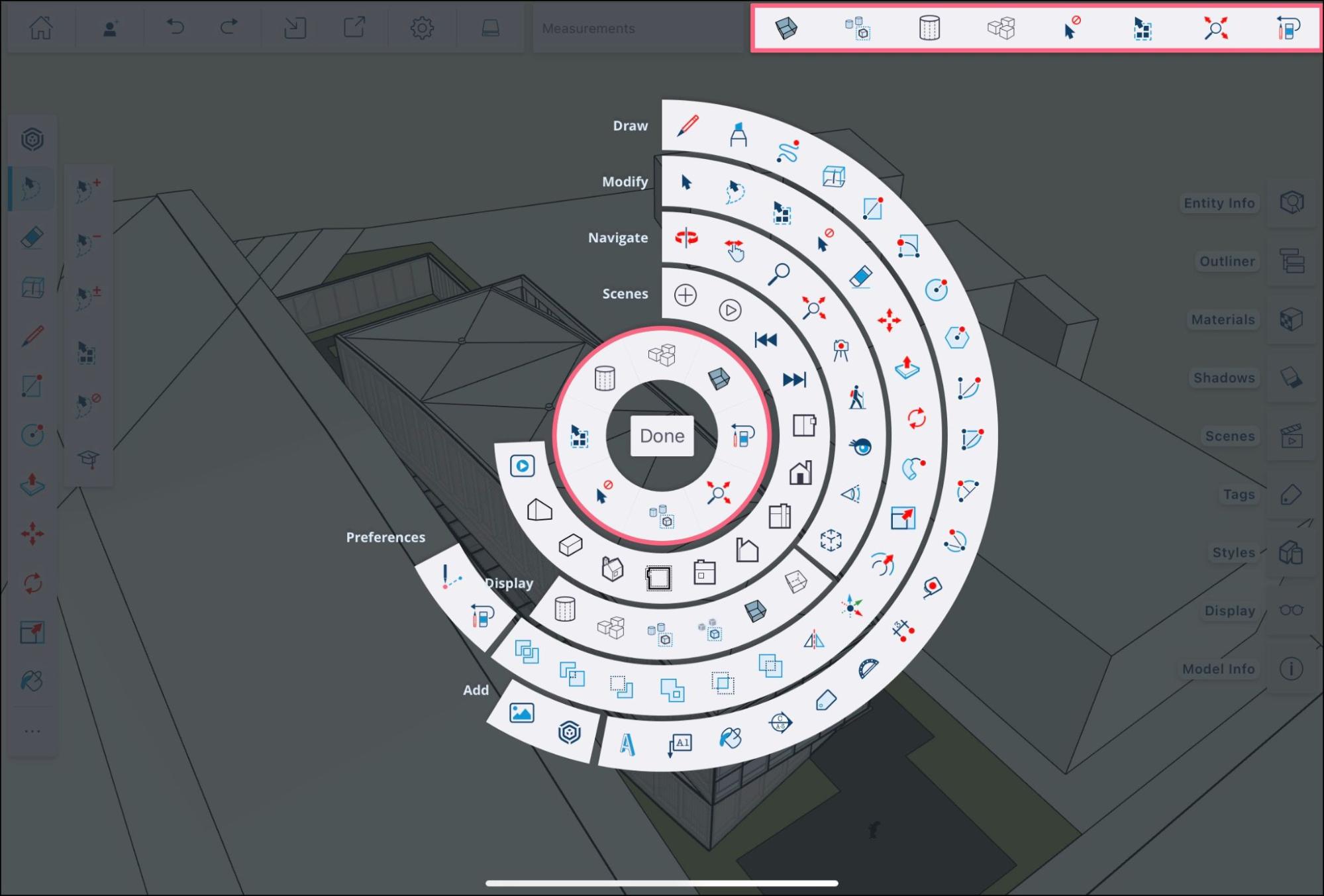 Activate the Radial Toolbar using one of the following methods:
M2 iPad with an Apple Pencil - Double tap the Pencil while hovering.
Magic Keyboard with Trackpad - Two-finger tap on the trackpad.
Bluetooth 3-button Mouse - Right click.
Customizing Your Toolbars
Whether you want to keep that Eraser extra handy or need a shortcut to a specific tool mode, SketchUp for iPad's customizable toolbars can help you set things up to best fit your modeling style. The Shortcuts Toolbar and the Radial Toolbar are both fully customizable. With either toolbar you can start customizing using one of the following input methods:
Apple Pencil or Multitouch - Long press any button already on the toolbar.
Mouse or Trackpad - Click then drag a tool to where you would like it to appear.
Appearance Themes
SketchUp for iPad offers both a Light Mode and Dark Mode appearance themes. You can also choose to use the theme you've already designated for your iPad.

You can select which appearance theme you would like in the About section of the SketchUp for iPad Home page or the General section in Preferences.