First, download the installation file for your operating system.
You don't need to delete previous versions of SketchUp before installing either a new SketchUp or an update of an already-installed version of SketchUp.
Important Note about Graphics Cards and System Requirements:
We recommend having the most current drivers installed for your graphics card(s), and that you check to see if your computer meets our
System Requirements
.
Installation instructions for Windows:
Open the downloaded Installer file as an Administrator. You may need to see a security prompt and will need to give SketchUp permission to make changes (install) on the computer. This step may take a while, so be patient if it seems like nothing is happening.
When the installation window opens, you'll have the option to change the application language and choose a different installation directory. Click Install, and the Installer will show a progress bar.

Tip: While it is possible to choose any location, we recommend keeping SketchUp installed on the C:\ drive.

Once you see the "SketchUp 2022 is Ready to Go!" message you can click on the SketchUp icon in the window to launch SketchUp right away, alternatively you can click Finish to close out the installer.
You may want to reboot your computer after the installation completes.
Installation instructions for Mac:
Make sure you're logged into your computer as a user who has Administrative privileges.
Close any existing application versions of SketchUp, Layout, and StyleBuilder.

Tip: You may also want to remove any existing SketchUp icons from your dock from previous versions (Right-click on the dock icon > Options > Remove from Dock), to avoid version mixups.

Locate and double-click on the Installer file (DMG file, probably in your Downloads folder). This will mount the installer drive and open a window with a SketchUp icon on it.
Drag the SketchUp icon and Drop it in the Applications folder to copy the application to your computer.
You'll see a progress bar as the files are copied, once this is complete you'll have a new SketchUp folder under Applications.
To launch SketchUp you'll navigate to the SketchUp folder and Double Click the SketchUp icon.
The first time you launch the software, you may be prompted with security message, if so, click Open.
You should now close the Installer window and delete the Disk Image drive icon from your desktop by dragging it to the Trash Can. Note that this icon is not the SketchUp application.
You may want to reboot your computer after the installation completes.
A Note about Maintenance Releases: Updates are meant to be installed over an existing major version. When a maintenance release becomes available, you will see a message in SketchUp to download and install this update. Once you finish downloading the install, double-click on the install file and follow the instructions. Installing the update over an existing version is the best way to preserve your settings and preferences.
Installing Updates
SketchUp Desktop is a client application and therefore will periodically need to be updated to add new features or to address any bugs or issues that have arisen. Don't worry, you don't have to watch for those changes, we do it for you! Periodically SketchUp will check with our servers during launch to make sure you're up to date. If there is a new version available you'll be notified: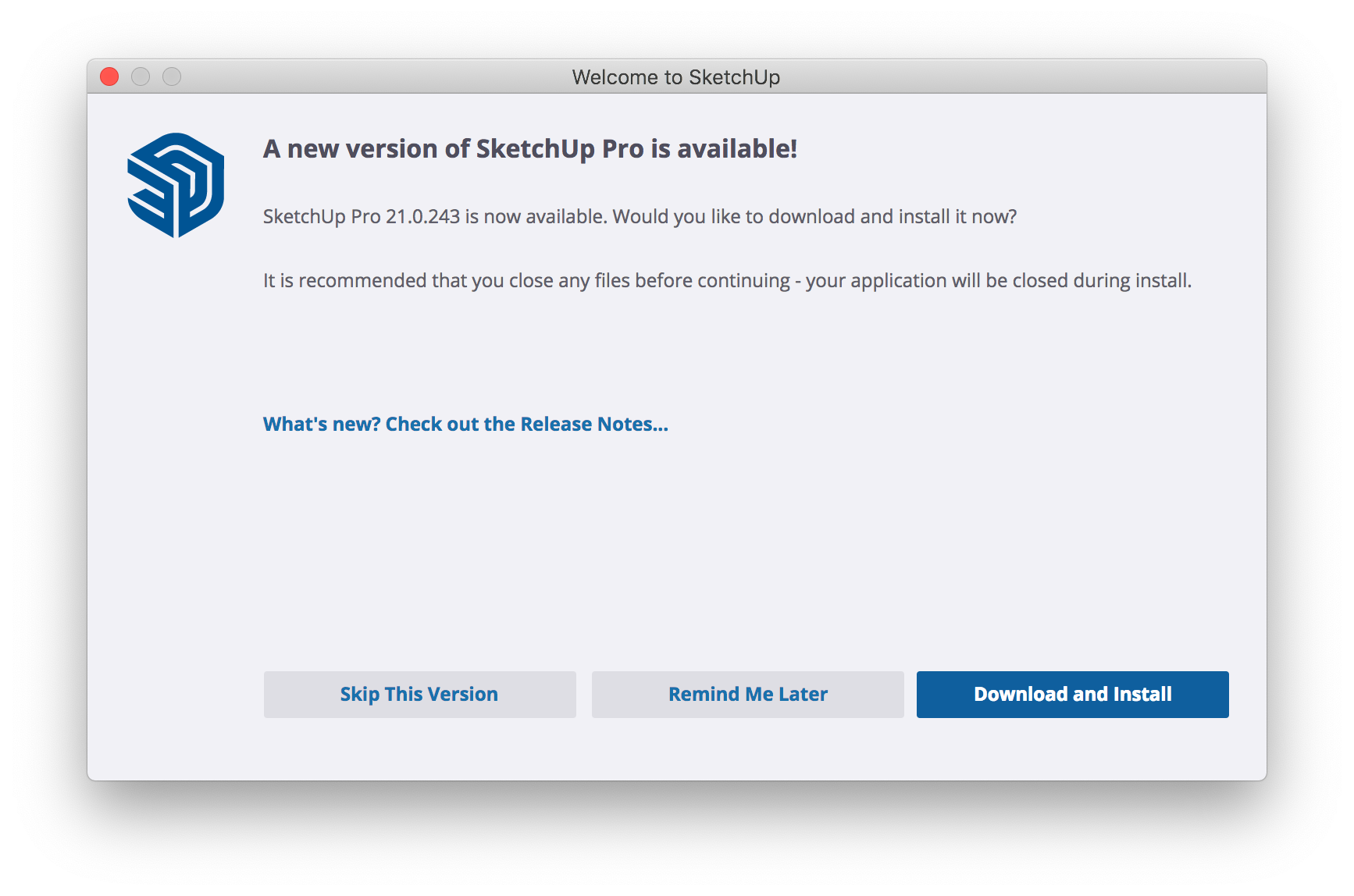 From this notification you can; review the release notes for this most recent update, opt to "skip" the update and avoid future notifications for that specific version, delay the option to update by telling us to remind you later, or you can choose to Download and Install the update. At some point, you'll most likely end up choosing to Download and Install the update.
After clicking "Download and Install", SketchUp will connect to our server and download the latest installer. You can monitor the download process and you're again able to read the release notes if you wish or be reminded to read them later. Once the download is complete you can install the latest version by clicking Continue.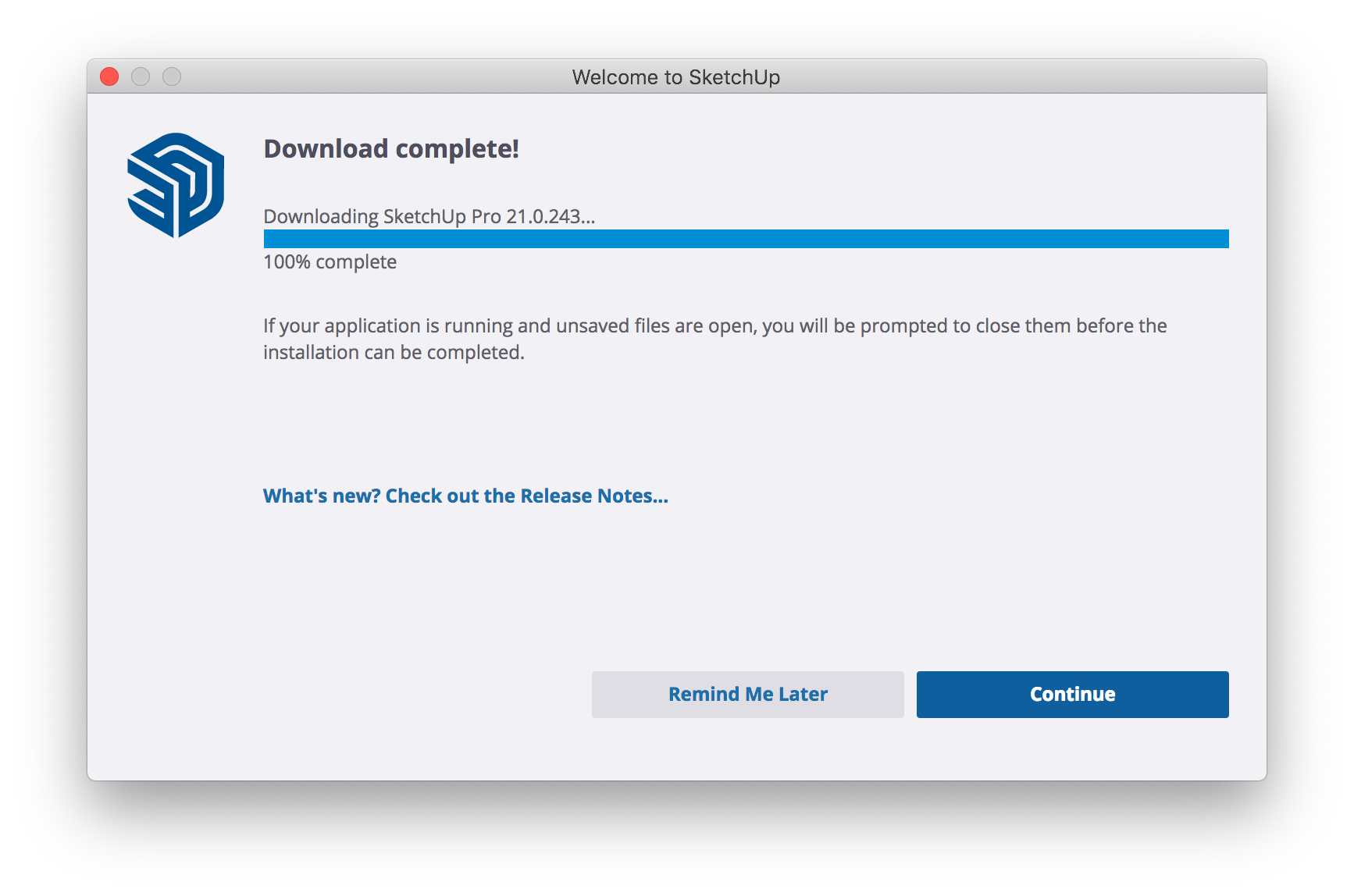 For any further installation instructions, you can refer to the appropriate section above.
Next Steps: Proceed to the Opening and Activating SketchUp article!