3D Warehouse is all about sharing — and that ethos extends to websites and social media.
To embed a 3D Warehouse model on a web page, follow these steps:
On the model details page, click the Embed tab in the sidebar on the right.
Select Thumbnail to get HTML code for embedding a thumbnail image of the model. Select 3D Viewer for HTML code that embeds a 3D viewer on a web page. For the 3D viewer to work on a web page, the visitor's web browser needs to support WebGL.
In the Embed This Model window that opens, as shown in the following figure, copy the code snippet, which you can then insert into your web page. You may want to save the code snippet to a TXT file that you can save to your hard drive, especially if you don't plan to embed the code snippet right away.
Click the Close button.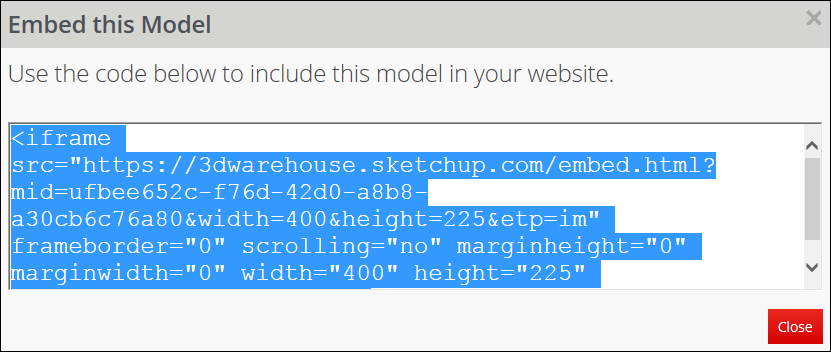 Tip: If you like, you can change the width and height attributes in the HTML code snippet.
You can also share a model on Google+, Facebook, Twitter, or Pinterest directly from the model details page. The steps are pretty simple:
On the model details page, scroll down to the Share tab.
Click the icon for the social media service on which you want to share your model.
In the window that appears, enter your login name and password (if you're not already logged in) and follow the on-screen prompts to share your model.
TAGS