To create a top-notch document or presentation, you need to not only draw the details precisely, but also keep an eye on the document pages as a whole. To help you out, LayOut has the Zoom Tool (
) and Pan Tool (

).
You find these tools on the View menu. Because you'll likely use them often, they're also accessible with your mouse.
Check out the following sections for details about all the ways you can pan and zoom.
Table of Contents
Zoom In and Out
Zooming is such a common action, LayOut gives you plenty of ways to zoom:
Scrolling your mouse activates LayOut's zoom feature.
The Zoom menu appears in the lower right of the LayOut interface.
The Zoom tools in the View menu, including several zoom commands.
Here, you find out how each option works, and you can choose your favorite.
Tip: If you have a mouse with a scroll wheel or if you're a Mac OS X user with a Magic Mouse, scrolling is the easiest way to zoom in or out of your LayOut document. Scroll forward to zoom in, and scroll backward to zoom out. When you scroll, the cursor position determines the center of the zoom.
In the lower right, the Zoom menu contains options to set your zoom value to a certain percentage or a few preset options. See Introducing the LayOut Interface for a tour of LayOut's interface, including the Zoom menu.
After you select the Zoom tool (
) from the View menu, you can zoom in or out as follows:
Zoom in by clicking and dragging up.
Zoom out by clicking and dragging down.
You can also select the following commands from the View menu:
Zoom In - Select this command to zoom in by 20 percent.
Zoom Out - Select this command, and you zoom out by 20 percent.
Actual Size - This command displays your document at its actual 100% size.
Zoom to Page - Size the view area to a zoom level that shows your document in the maximum size the window will allow. (Shortcut: Shift + Z)
Zoom Extents - When viewing a single page of your document, size the view area to a zoom level that only shows the drawings on that page. (Shift + Alt + Z on Windows; Shift + Option + Z on Mac)
Zoom Selection - Size the view area to a zoom level that centers on a selected element or group of elements. If no elements are selected, this option won't be available. (Alt + Z on Windows; Option + Z on Mac)
Panning around
The Pan tool enables you to move the view vertically or horizontally, which is pretty handy when you're zoomed in and can't see your whole document page.
Tip: While you're using any tool, LayOut enables you to toggle to the Pan tool quickly and easily. If you have a scroll wheel mouse, simply hold down the scroll wheel to make the Pan tool cursor appear. Although Mac OS X users typically don't have a scroll wheel mouse, you can still toggle to the Pan tool as you hold down the mouse button by pressing Command+Control+Shift.
You can also select the Pan tool (

) by selecting View > Pan.
With the Pan tool active, click and drag the Pan cursor in any direction to pan around the document area.
Trackpad Navigation (MacOS)
If you're using a laptop or a touchpad on a desktop computer then you have a couple of additional navigation options; two finger panning and pinch-to-zoom.
Two Finger Pan
To take advantage of two finger panning, you'll need to enable it following these steps:
Open LayOut
Navigate to LayOut > Preferences in the file menu
Select General
Check the box next to "Enable two finger pan".


Alternatively, you can leave this option unchecked and you can temporarily enable this functionality as desired by holding the CMD key.
Note, if you've enabled this feature but wish to use two finger swipe gestures for zooming, you can press and hold the CMD key while using the gesture.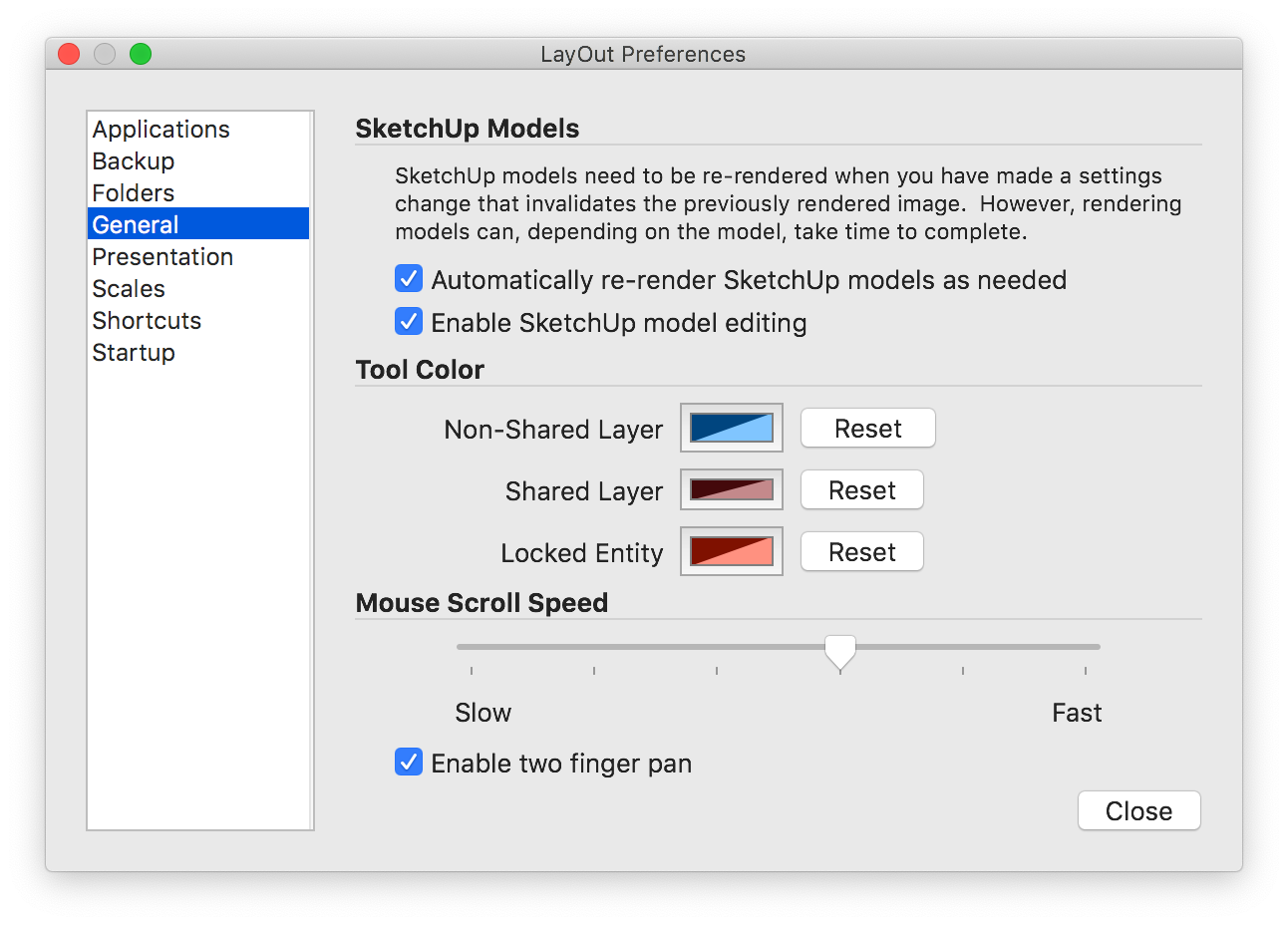 Pinch to Zoom
You can use the pinch/expand gesture in LayOut whether you've enabled panning or not. It works just like it sounds, place your finger and thumb over the area you wish to zoom and either pinch to zoom out, or expand to zoom in.