Live Components are a new kind of configurable object for SketchUp. If you have a SketchUp subscription, using a supported version of SketchUp, and an internet connection you can configure Live Components inside your models. Live Components are available for download from 3D Warehouse. There they can be configured, previewed in 3D and then downloaded. Check out our skill builder on Live Components to get started.
Finding Live Components
Live Components can be found by using the advanced search filter in 3D Warehouse search settings. Use this link or you can navigate directly using the following steps.
Go to the search results page by clicking the magnifying glass icon in the search field on 3D Warehouse.
Turn on the Live Components filter under Advanced search properties (in the bottom left of your screen).
Make sure you are viewing the Models tab and there you will find all the live components we have published.
Look for the lightning bolt icon!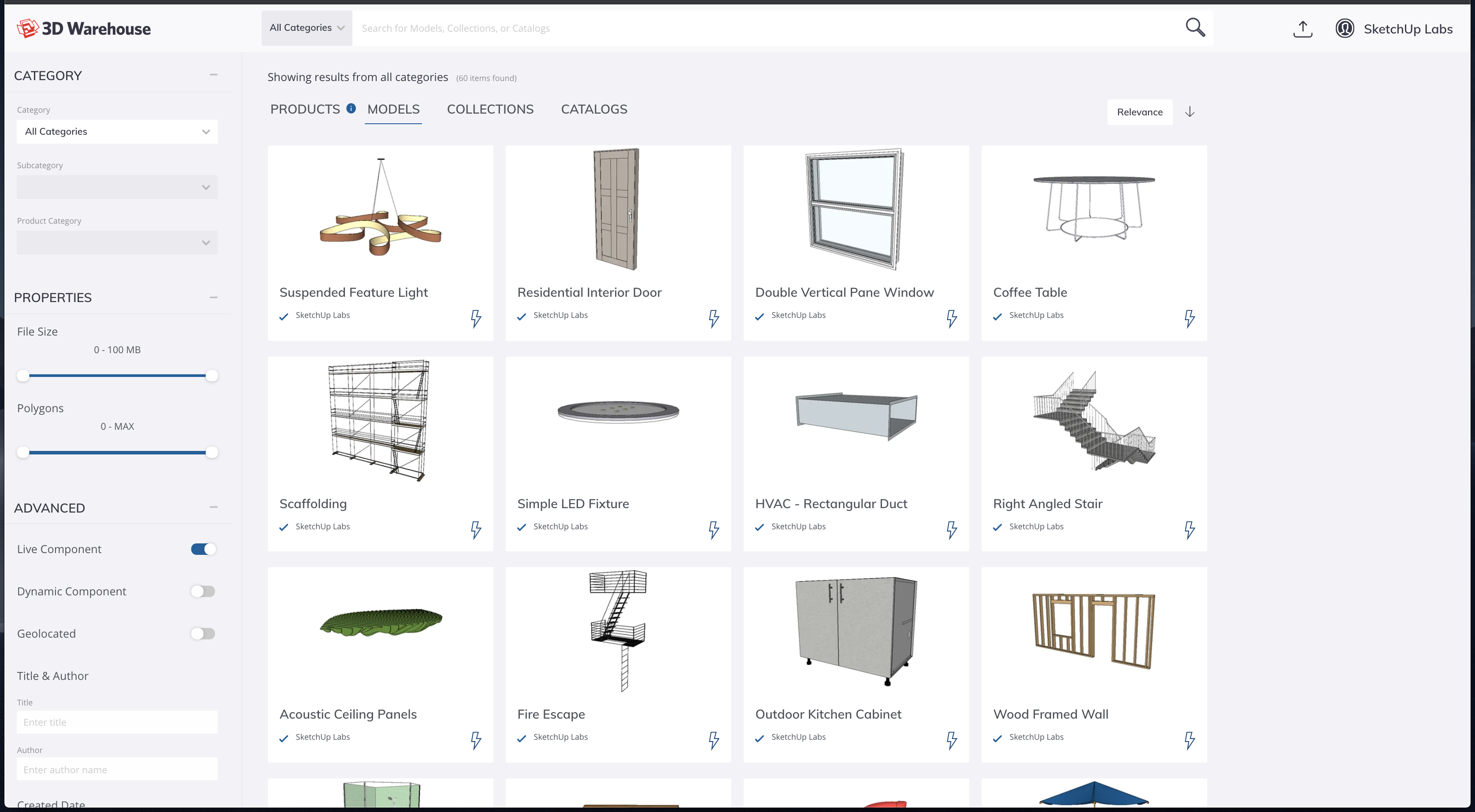 Configuring Live Components in 3D Warehouse
To configure a Live Component, go to the model details page by clicking on any of the search results. Next, click the Configure button. An overlay will appear with a 3D preview and parameters which allow you to adjust settings for the objects. In the model preview, you can use SketchUp's normal view tools such as Orbit and Zoom to examine the object. As you adjust the sliders, fields and drop-downs, you will see the object update in real time. Once you are done configuring, click Download to save the SKP file to your machine. From there you can insert that SKP file as a component into your SketchUp model.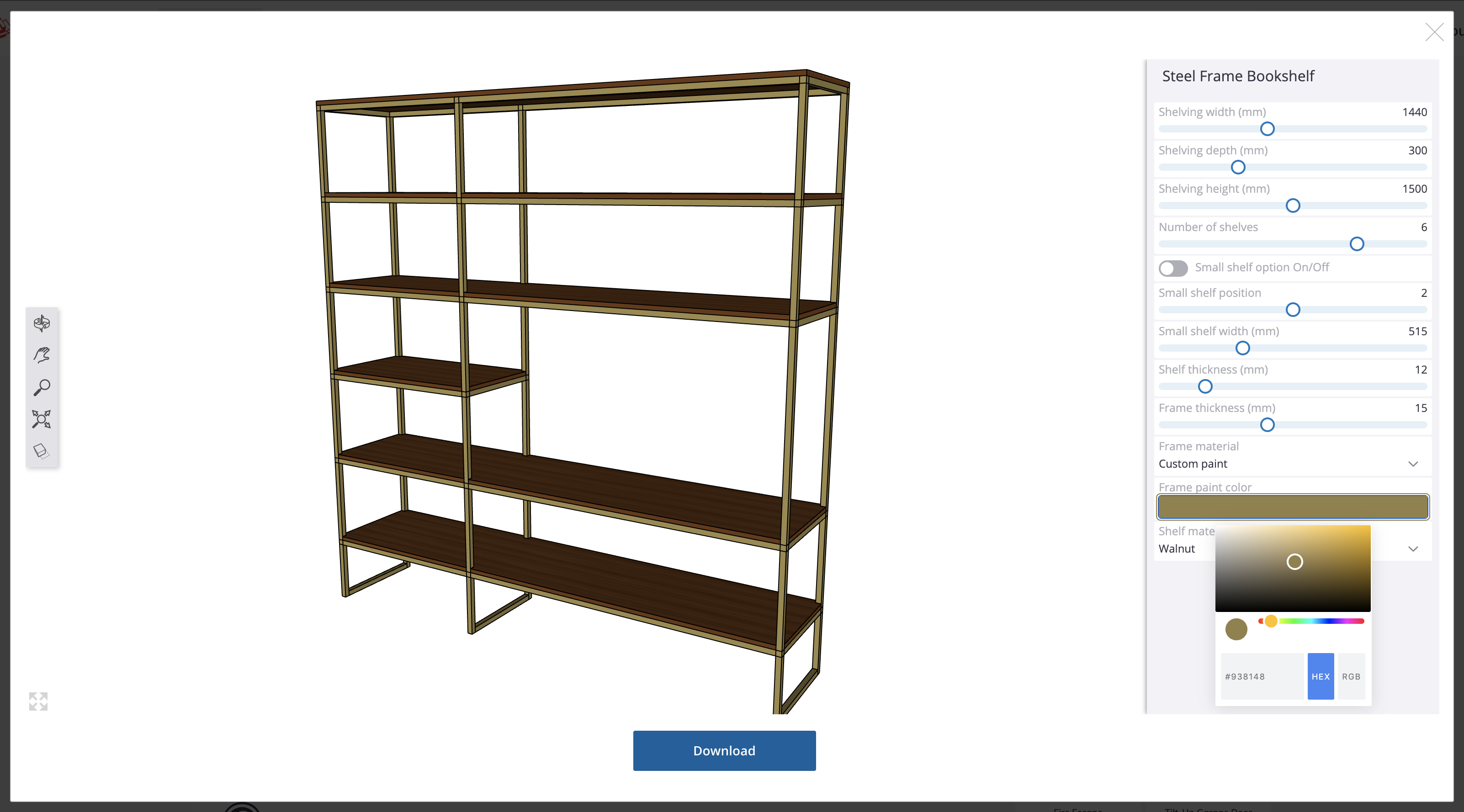 Configuring Live Components inside SketchUp
You can configure Live Components inside SketchUp using any of the methods that would allow you to edit a normal component. This includes double clicking the component or using right-click-> Configure Live Component.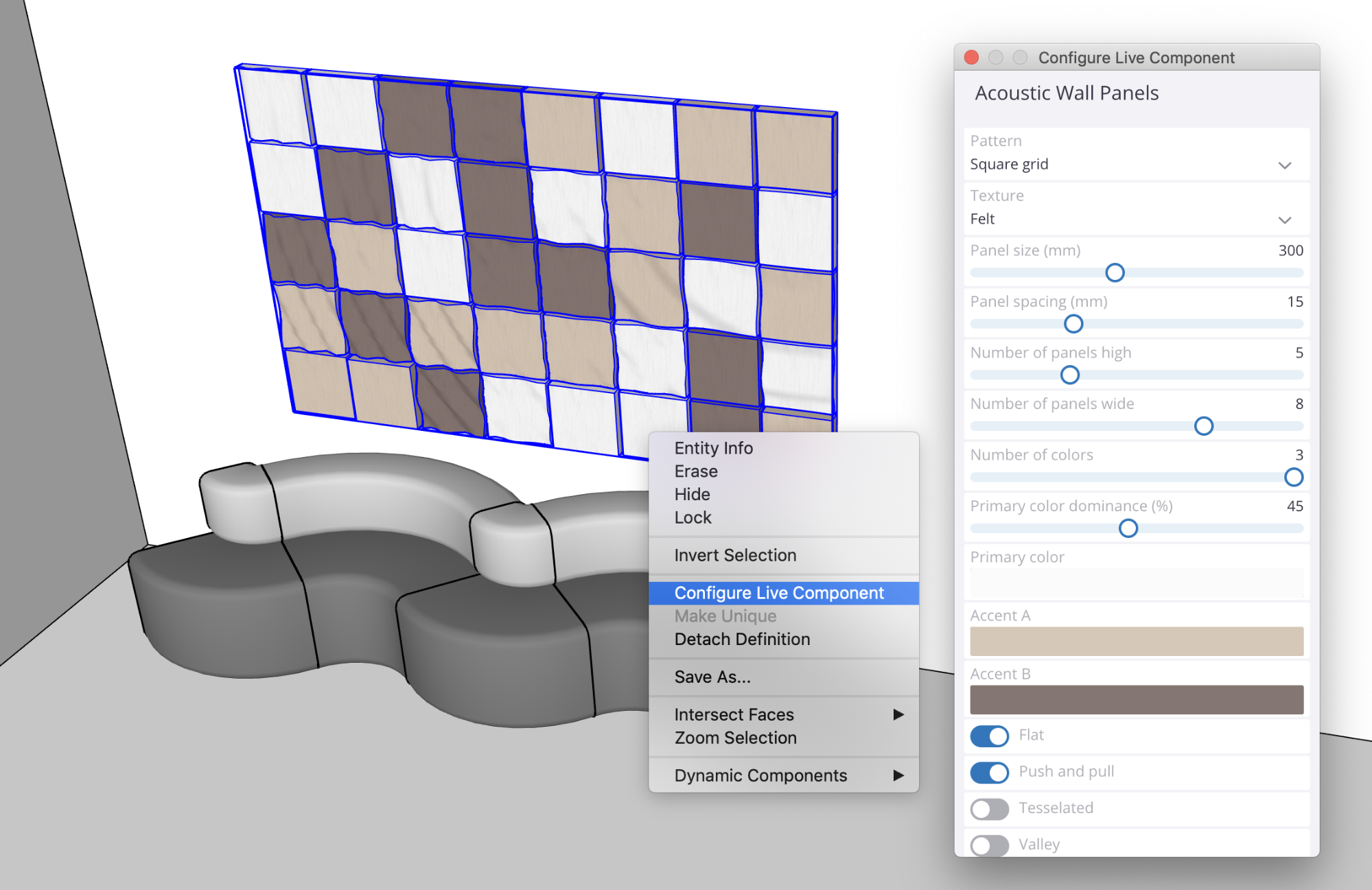 When you opt to configure a live component, the Live Component Parameter window will appear. Note that it typically takes several seconds for this window to fully load. We are actively working on improving this aspect. Once the parameter window has fully loaded you can adjust the component's fields, sliders and options and then see the object update inside your model.
Configuration changes are applied at the component definition level, so like all components, any changes you make will apply to all instances (copies) of a Live Component. If you want to have different configurations of the same object, you can use the Make Unique command in the context menu to create a new definition, then configure it separately.
Detach Definition
If you want to manipulate a Live Component like a normal component you must first use the Detach Definition option on the context menu. This operation disconnects the component definition from the Materia platform. That means it will affect all instances of that Live Component in your model. One detached you can explode or open the component for editing.
Replace Selected is a useful feature if you want to swap components with a Live version. Check out the "Component Swapping" section of this help center article.
Note: Live Component Definition names cannot be edited in entity info because they will be overwritten by new configurations. For more info on known issues visit the next help center article -
Feedback and Known Issues