Are you not sure how to do something in SketchUp? Can't remember where the button for a tool or option is? In SketchUp you can use an on-demand search to look up and activate SketchUp tools or commands.
You can activate the Search tool using it's toolbar icon, from the Help menu, or its keyboard shortcut (Shift + S).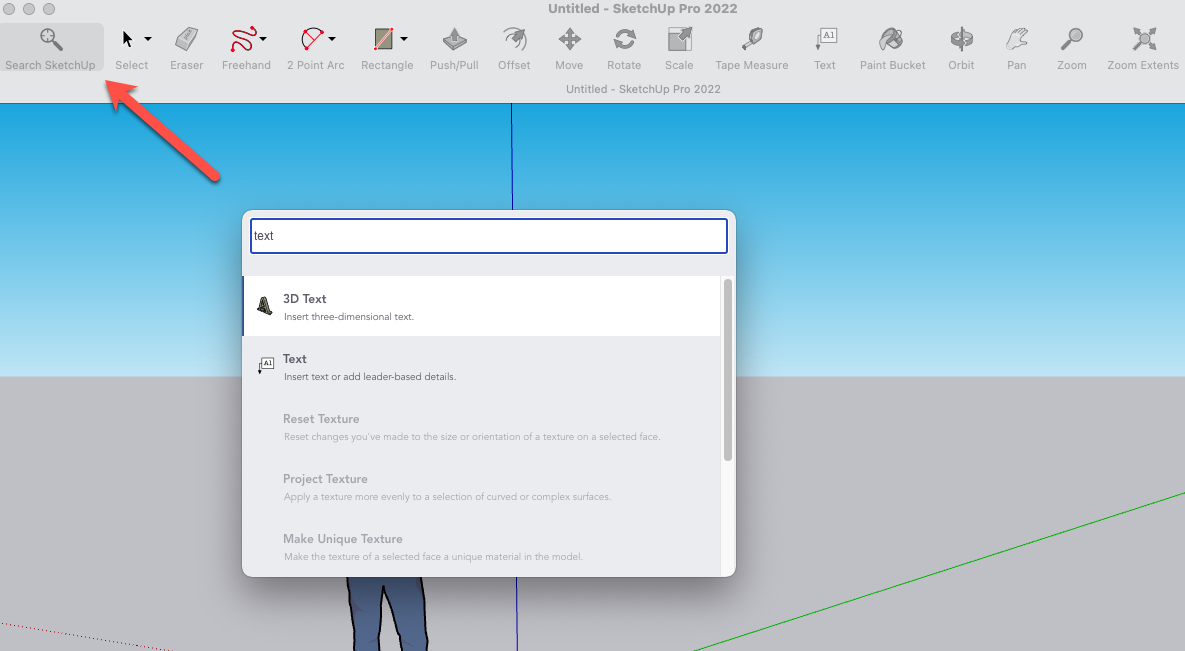 Table of Contents
Find and Activate Commands
When you start a search using the Search tool, SketchUp finds matches as you type. This means you don't need to type an entire tool name or phrase to get useful results. When you see what you're looking for, you can click the entry you want or use the arrow keys to navigate to the result and then hit Enter to activate the command. See below for more search related keyboard controls.
If your search result is a display command like X-ray mode, Hide Rest of Model, View Hidden Geometry, or View Shadows, you can activate these commands from search without switching away from your current tool choice. Many display commands can be activated while in the middle of a tool operation (like drawing, moving, or scaling). You can also use search results to manually toggle display options before clicking out of the search box and continue modeling.
Default Keyboard Shortcuts in SketchUp
If you find yourself using a tool frequently, you can simply look up its shortcut using the Search tool. While not every tool has a default shortcut, the Search tool displays all available shortcuts with each search result. You can also customize shortcuts using the Search tool by clicking on a shortcut key in a search result.
Shift + S is the default shortcut for on-demand search.
Up/Down Arrows can be used to navigate the search results list. Using these keys is the equivalent of hovering over a search result with your mouse.
Return activates the currently highlighted search result. Return also activates the first search result if you are in the midst of typing a query.
You also have the option to use your cursor to select the desired search result, clicking on the result will launch it.
Concept Searching
Searching in SketchUp is a good way to find and activate tools or commands that you know exist, but it's also a good way to find relevant 3D modeling tools even if you don't quite know what they are called. You can type in what you think a tool is called and SketchUp will return search results we think are most related to your query. Here's some examples:
If you're new to SketchUp and you're not sure how to 'raise' or 'lower' something, searches using those words will likely return the Move tool.
If you know there's a way to isolate a group or component while editing it but don't remember what it's called, a search for 'isolate' will display "Hide rest of model" or "Hide similar components."
This concept matching is subjective and we will continue to develop concept searches based on common questions from beginners, parallel functionality in software you might use with SketchUp, and a bit of team flair.
Extension Searching
Extensions allow you to add special tools and features to SketchUp. In the Extension Warehouse you can find extensions for a specific application (such as drawing or 3D printing) and industry-specific tools (such as extensions for architecture, interior design, construction, and more).
If you know the name of the extension you are looking for, or the command associated with an extension, you can use the Search tool to quickly find it. Please note, extensions with commands that only appear in context menus do not appear in search results at this time.