SketchUp Viewer for Quest can help you engage with your colleagues and clients using experiential design review - a powerful way to evaluate, coordinate, and communicate in Virtual Reality.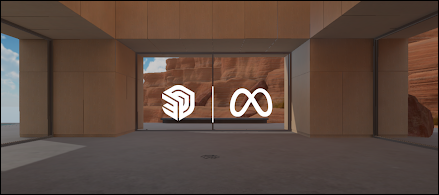 Leveraging the capabilities offered by Meta Quest devices, you can experience your projects by walking through them at full one to one scale. You, your teammates, and other stakeholders can virtually inhabit a design in a way that helps facilitate clear lines of communication while discussing complex spatial issues.
Tip: SketchUp Viewer for Quest is available for Meta Quest 2, Quest Pro, and Quest 3 devices. See the Meta Store for availability and pricing.
SketchUp Viewer for Quest includes all the great features found in other versions of SketchUp Viewer:
Fly around models using Scenes created in SketchUp
Adjust visibility with Tags and Outliner
Access important object data with Entity Info
SketchUp Viewer is available on the Quest Store. Just search for SketchUp and install the SketchUp Viewer app.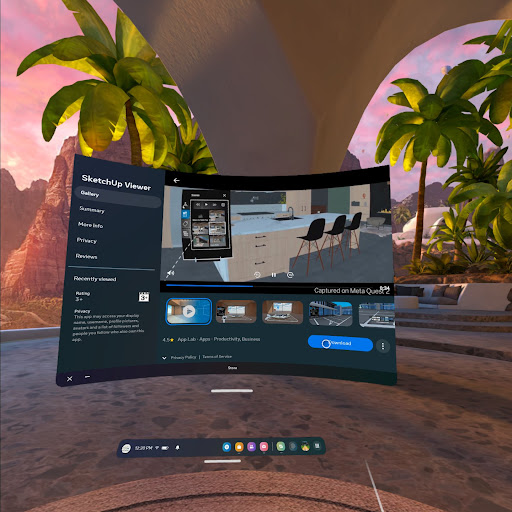 System Requirements
To use SketchUp Viewer for Quest you'll need:
A Meta Quest 2, Pro, or 3. SketchUp Viewer for Quest is not compatible with any other VR devices.
Meta Quest controllers. Hand tracking is not supported.
An internet connection. SketchUp Viewer for Quest is linked to your Trimble ID and also uses other cloud-based services.
Getting Started with SketchUp Viewer for Quest
Ready to experience your models and projects in virtual reality? We've put together some information to help you get started.
Signing into SketchUp for Quest - Sign in to get started with SketchUp in VR.
SketchUp Home Screen - Take a tour and get to know the Home Screen.
Opening a Model in Quest - Open a model and start exploring your work in VR.
Move, Rotate, and Scale - Learn about navigating and manipulating how your model appears in VR.
SketchUp for Quest's Tools - An overview of the tools available to you and how to use them.
Cast to SketchUp Viewer - Cast your model from SketchUp Viewer to other devices.
Recording Your Session - Learn how to record your SketchUp Viewer session so you can share it later.