The Add Location feature in SketchUp helps make adding and managing geo-located imagery and data easy. With Add Location you can view terrain, orient your model in a real-world location, and modify existing location data.
To use Add Location in SketchUp for Web, select Add Location from the Main Menu.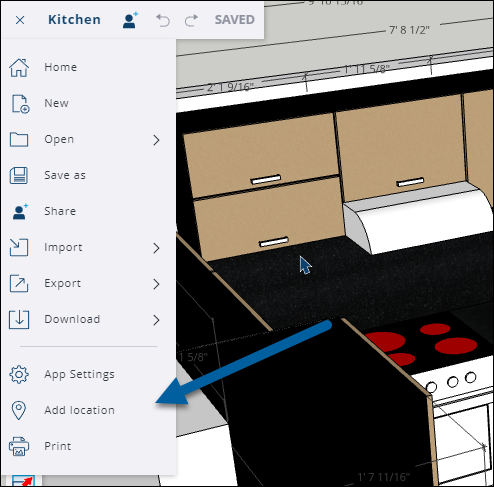 If it's your first time using Add Location you'll see some helpful information explaining how it all works. Once you're in, follow these steps to geo-locate your model:
Narrow down your location. Enter an address or location name in the search bar and click Search. Add Location zooms in on that location . You can adjust the zoom level using Zoom Level controls on the right side of the window.
Choose a map type. Choose between a basic street map and a satellite/aerial view.
Select a region. Clicking Select Region opens the Region panel and creates a selector box overlaying the map. Adjust the selector box to set your site boundaries.
Import. After selecting a region, you're ready to go! Click Import in the Region panel. Add Location imports a 2D plan of your map into SketchUp.
For more details, including a detailed overview of all that you can do with geo-location, check out Add Location.