To help you find the SketchUp extensions you seek, the Extension Warehouse has several tools for searching and browsing extensions:
The Search box at the top of every page
Highlighted groups on the Extension Warehouse home page, such as Top Extensions, which you can filter by industry
The filters in your list of search results
The category, industry, and author tags on the extension details page
The following steps explain how you might use each of these tools on your quest for the perfect extension:
On the Extension Warehouse home page, type the name of an extension or descriptive search terms in the Search box and then click the Search button. Or, in the Categories or Industries area, you can click an option, such as Drawing or Construction. Either way, a page of search results appears, as shown in the following figure.
To further refine your search results, select one or more filters in the sidebar on the left. For example, if you only want to see extensions that are compatible with your version of SketchUp, select the check box next to that version. The Extension Warehouse filters your results as soon as you select the checkbox. After you apply a filter, it appears at the top of the sidebar, so you can see at a glance what filters are applied to your search results.
To change how your search results are sorted, select an option from the drop-down list in the upper right of the search results page. By default, results are sorted by relevance, but you can also sort by date created or popularity or sort alphabetically by title or author.
Click an extension's title to open its extension details page. If you like the extension and want to install it, see Adding Extensions to SketchUp. If you want to keep browsing, try either of the following:

Start a new search in the Search box.
In the sidebar of statistics on the right, click any category, industry, SketchUp version, operating system, or language to see search results related to that item.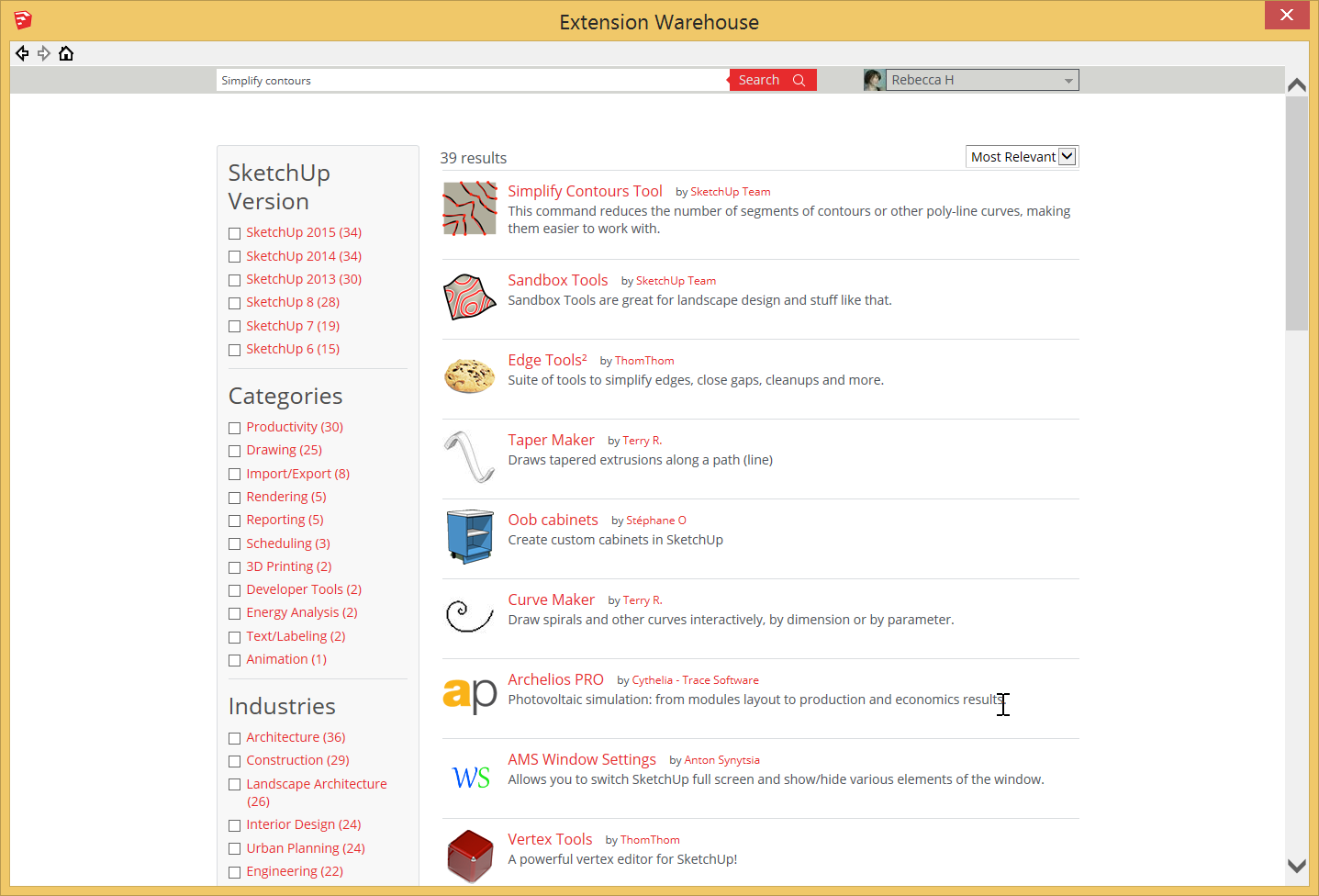 For an introduction to all the elements on extension details page, see Getting Started in the Extension Warehouse.