3D Warehouse sets you up for success by providing all the tools you need to start discovering the creations of other SketchUp users or upload and manage your own.
My 3D Warehouse
The first thing you will see when you open 3D Warehouse is My 3D Warehouse. Let's introduce you to each section and how you can use them to navigate 3D Warehouse.
Search - You can use Search to find models and materials uploaded to 3D Warehouse using keywords, phrases, or images. For more information, see Searching for Models and Materials.

Account Information - Click your name in the upper right to easily access your profile and 3D Warehouse settings. For more information see Managing Your 3D Warehouse Profile.

Your Content Overview - If you've already started uploading and saving models in 3D Warehouse, you can see and access all of your uploads and collections here.

Your Saved Content - Any models you have saved will appear here. If you haven't saved any content yet, clicking Search for Content takes you to the Search page.

Your Original Content - A list of your uploaded content appears here. If you don't have any, you can click Upload A Model to get started.
Model Details
Once you've found a model that catches your eye you can see more information about that model on its details page. The details page includes tools, a detailed description, and all the information you need to make sure that model is the right fit for your project.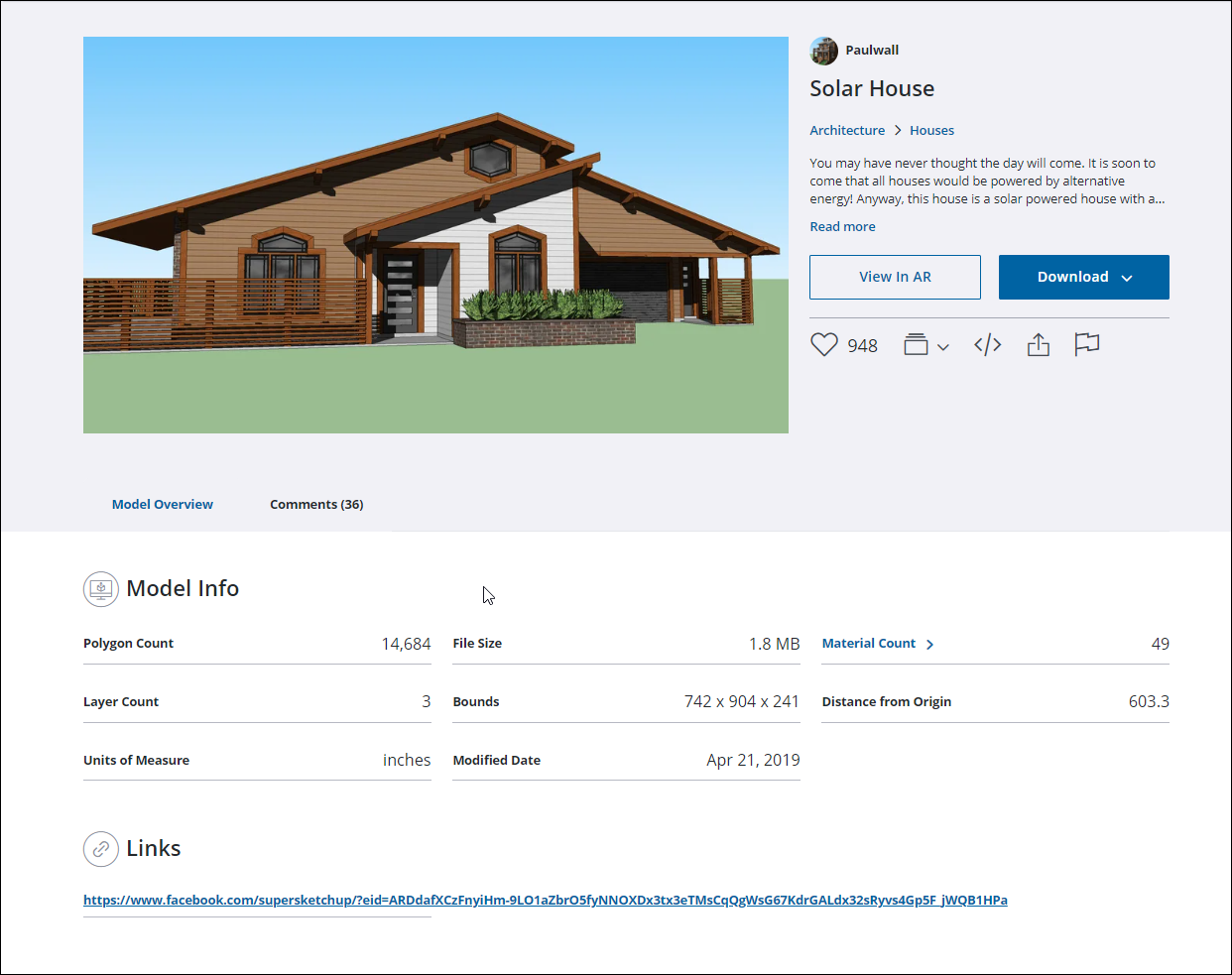 Each model's details page contains the following sections:
Name and Description - A full description of the model including the name of the creator, what category the model belongs to, and options to View in AR or Download the model.
Quick Links - You'll also see a few quick links where you can like the model, add it to a collection, embed a link to the model, share the model, or report the model if needed.
Model Info - A list of basic specifications like Polygon Count, what unit of measurement the model uses, or how many materials were used.
Links - A model's creator can add links to other places on the web you can find them.
Comments - Comments on this model from other 3D Warehouse users.