What's new in SketchUp 2021?
We have a host of exciting new tools and features designed to transform your workflow and help you build a strong foundation across all your models. Highlights from our release include:
Check out our blog post for more details about these exciting new updates!
2021 Feature FAQs
We've pulled some frequently asked questions around the new features in SketchUp 2021. You can also search for your question and/or post your question on SketchUp's online community forum. Our forum is lively, real-time and very informative. To get started, please visit the forum (requires login).
PreDesign
What is PreDesign?
PreDesign is SketchUp's new web-based tool that enhances your design research before you start modeling in 3D.
How do I access PreDesign?
You can access PreDesign if you have a current SketchUp Pro or Studio subscription, or an enterprise agreement.
What information do I need to get started in PreDesign?
Simply log into the app, and provide two simple details to get started: a site location, and a building typology selected from a drop down list
Model Organization
Tag Folders
How do I create tag folders and add tags to them?
Can I use tag folders with models that already have a bunch of tags?
Yes! To add existing tags to folders, select the tags you want to organize and click the 'Add Tag Folder' button at the top of the Tags panel.
Can I put the same tags in different folders?
At this time, the same tag cannot live in the same folder. But, if you need to select multiple tags that live in separate folders, you can do this using common naming prefixes across multiple folders, and then using tag filtering to select commonly named tags across multiple folders.
Can import tag folders from one model into another?
Not yet. If you import a model with tag folders into an existing SketchUp model, you will only be importing tags from your imported model. If you want to create template models with Tag Folders, you can do this by opening those files directly (as opposed to inserting them into existing models).
Why am I seeing objects from hidden tag folders in a section cut?
This is a small issue with Tag Folder visibility that we are aware of and will fix soon. In the near term, you can correct this problem by selecting the tags within the affected tag folder and turning off their visibility manually.
Tag Filtering
Where is the tag filtering in LayOut?
We haven't introduced tag filtering in LayOut's SketchUp Model panel (yet!).
Live Components
What is SketchUp Labs?
SketchUp Labs is a new program which lets us test features before they are fully ready. Learn more here.
What are Live Components?
Live components are configurable objects that re-draw themselves in real-time. Using Live Components with the 2021 SketchUp update allows for greater project scalability and benefits a wide range of use cases including architectural configuration, interior design, as-built modeling, space planning, and rapid iterations of concept or aesthetic.
Read more about them in the 'What's New?' section of our release notes.
How are they different from dynamic components?
Live components are actively developed and accessed via the web, where dynamic components are not. Live components' modeling capabilities result in cleaner, better geometry and object hierarchy in the object, whereas dynamic components need to have all their "assets" nested inside them, making for heavy objects.
Live components are more constructible and built on more accurate modeling practices, where dynamic components rely on object scaling and stretching which can result in odd compositions.
Live components protect the author's intellectual property as the logic for the object lives in materia, where dynamic components include all the author's IP so anyone can study it.
Can I create my own Live Components?
Not yet. But you can read more about this and where we're going with Live Components here.
Licensing & Access
How can I access SketchUp 2021?
If you have a current SketchUp subscription, you have access to the latest version here.
If I purchased a subscription for SketchUp Pro 2020, how do I get access to SketchUp Pro 2021?
When we updated our version of SketchUp, we tried to make it super easy for you to move into the latest version. To update from 2020 to 2021, please sign out from 2020 and sign in to 2021.
All currently supported versions of SketchUp can be found and downloaded here.
I'm not seeing my licenses in the portal, where's my license?
Unfortunately, there is not yet a single portal for you to view all of our license options at this time. We have two portals for where you can find your information, depending on what kind of entitlement you have.
If you have a subscription, you can see and manage your details in our Account Manager.
If you have a Classic license (perpetual, non-expiring), you can see your details in our License Manager.

Tip: Classic licenses have a serial number (XA-XXXXXXXX-ALX)
My SketchUp application isn't working, what should I do?
Make sure you are using the newest version of SketchUp, SketchUp 2021 and not an older version.
Make sure your computer meets the Hardware and Software Requirements to run your version of SketchUp Pro.
Try reinstalling SketchUp Pro 2021and running the repair option.
Still not working? Please document the issue (screenshots help) and contact support.
I'm having trouble installing SketchUp Pro 2021 on my Windows Machine! Help!
Please double check the current install log as follows:
Windows:

In File Explorer, navigate to the folder where your installer file is located. (This is usually the downloads folder)
Attach the InstallShield.log file to your bug report.

MacOS:

In Finder, select Go > Go To Folder
Type in "~/Library"
Navigate to Application Support/SketchUp 2020/_Installation_Logs_
If you are current on your support plan, please attach the most recent SketchUp or Viewer log and send it to us.
Error Message: The License you added is not a Valid SketchUp 2021 License (Classic Licenses only)
If you are getting an error that says "The License you added is not a valid SketchUp Pro 2021 license" it will likely look like this: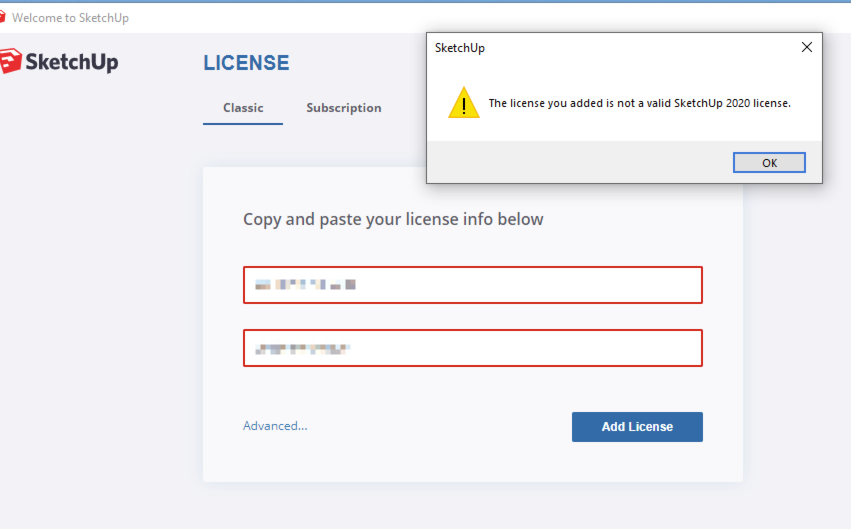 Recommended steps:
Type your Serial # and Authorization code into SketchUp manually
Confirm there are no special characters in your OS username
(;' *&^%$#@!)
Please try reinstalling SketchUp with the instructions you can find here.
If you continue to have issues, please reach out to Technical Support by filling in our form here (requires login and that you are current on your support plan)