The Trimble Account management page is only for managing subscription plans where the purchased product is activated by signing in with your Trimble ID. We started offering sign-in plans in 2018 for Shop and in 2019 for Pro. The sign-in subscription plans found in the Trimble Account page do not have or need serial numbers.
Note for Classic License holders:
Signing in to Pro does not activate SketchUp Pro for users with a Classic license plan - they will need to enter their serial number and authorization code. License and authorization codes and license renewals are handled in the
License Manager
, those plans are not found in the
Trimble Account page
. To update the billing information for a license's Maintenance & Support renewal, visit our Billing Profile page. For other Classic license management needs, please reach out to us through our
Contact form
.
Warning about Browsers: Please don't use Microsoft Internet Explorer when accessing the Account Management Portal, as IE is not supported. We recommend using Google Chrome, Safari, Firefox, and Edge.
Please note that your Trimble Account access and contents may be slightly different based on where and how you purchased your subscription, depending on whether it was purchased directly from sketchup.com/buy or from one of our Authorized Resellers. If you purchased directly from one of our Sales Representatives, you may need to contact them for some of the functions listed below. Admins/Owners of the SketchUp plan will see different options than assigned end-users. The information below is based on an Admin/Owner view.
Note: All SketchUp Subscribers must sign in with their
Trimble ID
(TID) to access the web-based and desktop software, as well as the Trimble Account management page.
Account Management - Overview
Visit the Subscription tab for your Trimble Account at myaccount.trimble.com, you can see the products associated with your account, and if you are an Owner or Admin, then you can also make changes to your plans. If the plan is for multiple users, you can see all members managed by the account. If you've purchased a user subscription through the SketchUp Store, visiting the Trimble Account page will show you something similar to this: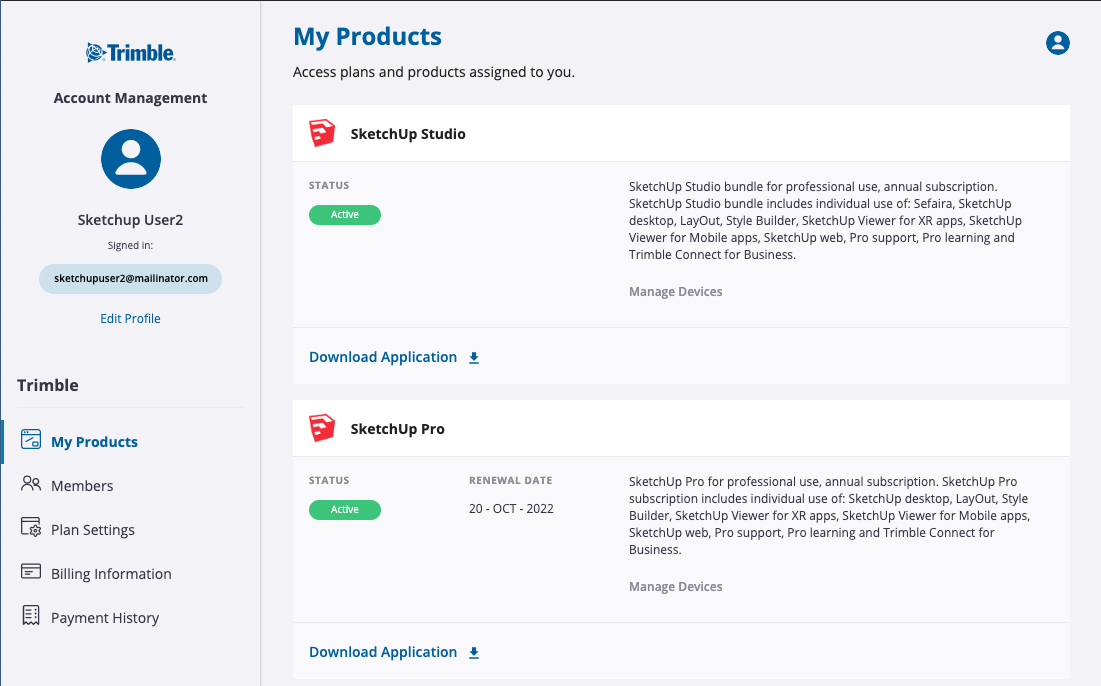 If you click on "View Details," you'll see a launcher to bring you to your product.
Assign the Correct End-User - and get rid of "Trial" Messages
The person who purchases a plan is the admin for the account, but they aren't necessarily assigned as the end-user. The end-user will only have access to their product after the 30-day Trial runs out if they are properly assigned as the end-user. Only subscription members with Owner/Admin status can assign end-users and revoke entitlements and only the Owner/Admin can see these options.
Note:
You might also see a Trial message if you didn't actually purchase a Pro or Studio Plan. If you purchased Shop (Web version) but want Pro (differences are shown
here
), here are the instructions for
Upgrading to Pro
.
Click on the "strong>Members menu item on the left lower menu of the Trimble Account page.If you don't see your purchased seats, check to see if there is an arrow next to your account name at the top of the left menu, beneath where it says Edit Profile. Click on the arrow and choose the different purchased accounts for the ones with seats to assign.
Select your purchased plan from the top boxes.

This is the step people tend to skip over

if they have more than one box up there. Also, sometimes a Pro plan doesn't just say Pro - it even might say something about a Rep or Channel and Renewal, but go ahead and click it anyway.



If an incorrect end-user email is in the "Members" section at the bottom, then hover your mouse to the right of the email to activate the small X button to remove the current email address. If this email is the account admin email, it won't remove admin privileges, just the SketchUp product access.
Most admins don't need the search bar - it was put there for the company with 100 user emails, so they don't need to scroll around when searching for someone.

When a user seat is available, click the blue +Assign button to add the new end-user email address and name, and then click Add to finish this step.
Note: The name entered here will also be the name displayed in the credited authorship if that user uploads a model in the 3D Warehouse, or if they claim cred of the model in SketchUp's Model Info.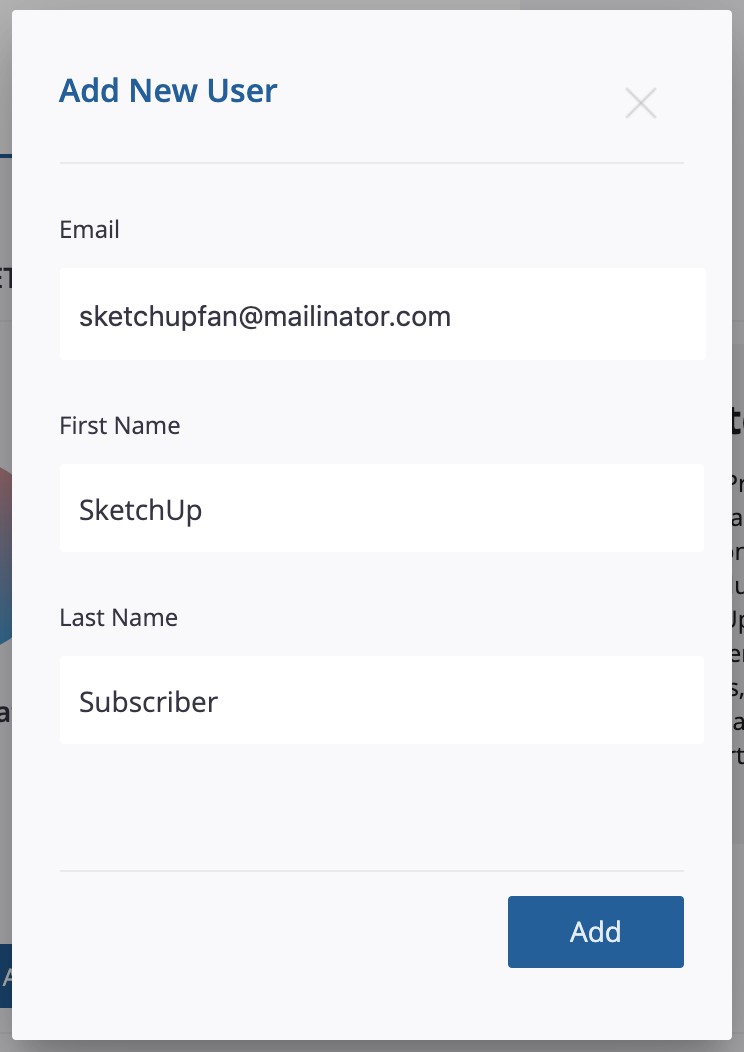 Warning: Add a different email address for each seat. Using the same email address on 2 seats will not double the activations for that email sign-in. Each email is allowed to be activated on 2 machines, for 1 single user (Some EDU subscriptions may only allow one sign-in).
You're done! The end-user might need to wait a little while or sign out and in again in the downloaded software to trigger the change. If they haven't created a Trimble ID sign-in account, they'll be sent a link to create one, and they need to click that link within 72 hours.
Add or Subtract the Number of End-Users
Note: Only the Owner/Admin of a subscription can perform this function or see these options, and only if they purchased directly through our website. If the subscription was purchased through a Sales Rep or SketchUp Reseller, please contact them to make these changes.
To change the number of total users in the plan, click on the Plan Settings page link on the left. If you have multiple purchases through Sales or a Rep , you may need to click on the arrow next to the account name on the left to find the correct purchase's Plan Settings.
On your purchased Plan, click on Edit Plan Settings in the upper right.


Click on the Manage Seats in the window that comes up.


Choose either the Add seats to this plan or the Remove seats from this plan option.


If you added seats, then click on Continue to Trimble, and make sure to agree to the Terms and Conditions before trying to finish the store purchase.
Removing seats only takes effect at the end of the current subscription term. If you have auto-renew turned off, you will need to turn it back on in order to remove the seats.
Upgrade/Downgrade your Plan between Shop, Pro, or Studio
Note: Only the Owner/Admin of a subscription can perform this function or see these options, and only if they purchased directly through our website. If the subscription was purchased through a Sales Rep or SketchUp Reseller, please contact them to make these changes.
If you want to upgrade/downgrade, this is a quick and easy process! Also, upgrading means that you don't need to request a refund for the initial purchase, as the prorated amount from the original plan will be applied to the cost of the upgraded plan! The prorated price will be shown on the last screen in the online store, and the upgraded product is available to the user immediately (although the user may need to sign out and in again in the product to trigger the new entitlement). Downgrading a plan, however, only takes effect after the original plan's end-date.
Click on Plan Settings on the left lower menu.
Click the blue "Edit Plan Settings" link on whichever plan you wish to upgrade.


After clicking Edit Plan Settings, Click on Manage Plan.


Click on the plan that you wish to upgrade or downgrade to, and then click Continue.

If you choose to downgrade but have auto-renew off, then you'll need to turn auto-renew back on, because downgrading only takes effect after the current subscription's end-date has been reached, so it only works if auto-renew is onAt the auto-renewal date, the subscription will then renew for the downgraded plan's price.

If you choose to upgrade, this will take you to a confirmation window. If it looks correct, click on Yes and you'll be taken to a Shopping Cart.

Once you've confirmed the correct credit card, click the checkbox to the left of the Terms and Conditions line and then click the "Submit" button.


You'll see a confirmation message and then you'll get an email confirmation that will link you back to the Trimble Account page.


Note: The proration of the subscription will show on the final checkout confirmation.
Disable/Enable Auto-Renew or Request a Refund
If you disable auto renew for your plan, your subscription will not automatically renew for the following year. You will be able to access the products and features in your plan for the remainder of your subscription term.
Note: Only the Owner/Admin of a subscription can perform this function or see these options, and only if they purchased directly through our website. If the subscription was purchased through a Sales Rep or SketchUp Reseller, please contact them to make these changes.
Warning: Disabling auto-renew for your Plan does not result in a refund.
Per our Refund policy, we can only offer refunds if you make your request through our Customer Support form within 14 days of the purchase transaction. When contacting us, please include the purchasing email address, the account number, and the purchase date.
To disable your plan's auto-renewal, start in the Plan Settings tab on the left menu.
Click on the blue Edit Plan Settings link.


Click the Manage Auto-Renewal option.


Click on the Auto-Renewal Slider to activate or deactivate auto-renew, and then click Done.
Signed In to Too Many Computers? "Deauthorize All" to Free Up Activations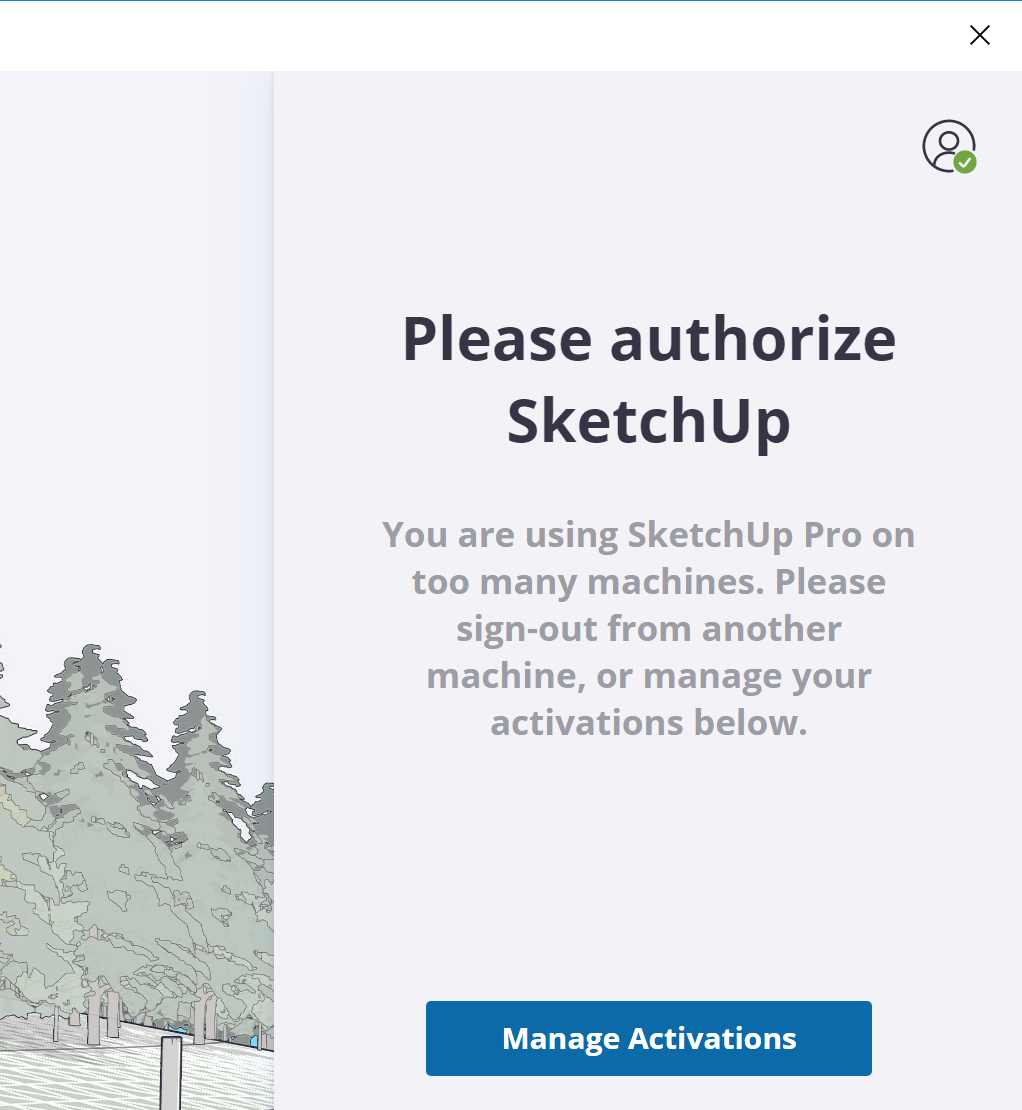 If you see this message, click on Manage Activations and sign into your Trimble Account management page. Only assigned end-users can do this, their admin cannot do this for them under the Admin account. Navigate to the My Products menu item and look for SketchUp Pro or Studio (not the Trial or Free one). If this setting isn't available then you may need to change from your personal free account to your purchased account from the drop-down menu on the left. Click on View Included Applications to expand that menu and find SketchUp Pro. Click on Manage Devices under your plan description.

On the pop-up window that comes up, click on the Deauthorize All button to confirm the choice.
Important:
Back in the SketchUp program, click on the small profile icon to sign out (
Sign Out
is also found in the Help menu), and then sign back in again when prompted. If you run into any issues with this,
let us know
.
Payment History
You're able to track all subscription transactions made with this Trimble Account if you are the owner of the subscription. Note that this list will not include purchases of a "classic" license (the older plans that came with a serial number).
Invoices: If you need your invoice/receipt, please check your spam folder for the original (it would have come from donotreply@trimble.com), but you can request another copy of it by contacting either your SketchUp Reseller or Customer Service, if you purchased directly and not through Sales or a reseller. In the request, please include the date of purchase, account number, and purchasing email address. If you purchased through a Sales Representative or a SketchUp Reseller, you will need to contact the Rep or Reseller for your invoice.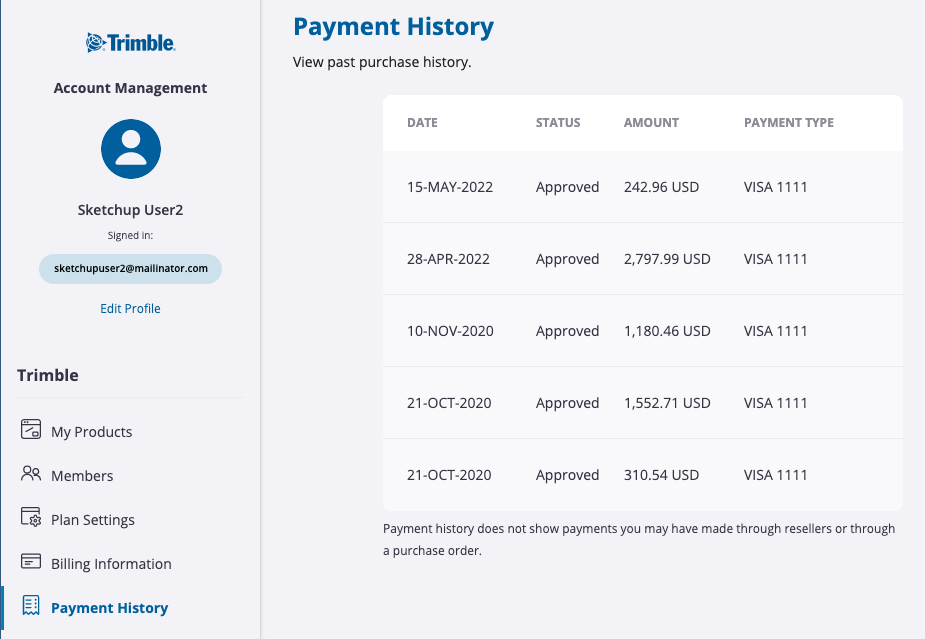 Billing Information
Note: Only the Owner/Admin of a subscription can perform this function or see these options, and only if they purchased directly through our website. If the subscription was purchased through a Sales Rep or SketchUp Reseller, please contact them to make these changes.
If you purchased with a credit card from Trimble, your subscription will automatically renew unless you disable automatic renewals. If your renewal fails due to an expired credit card or failed transaction, you have a 5-day grace period to resolve the issue. During this grace period, you'll see the following message in the Action Manager (a small pop-up on the right side of the SketchUp model window) saying:
This SketchUp license will expire in X days. Please update your license to SketchUp.
Under "Billing Information", you can update your billing details and credit card information. At the moment you cannot update your company name, but that feature is coming. If the subscription has expired for more than 5 days then you cannot renew that expired subscription and you would instead purchase a new subscription.
The Account Address helps set the tax obligations. The Billing address can be edited in the Payment Method settings below the Account Information.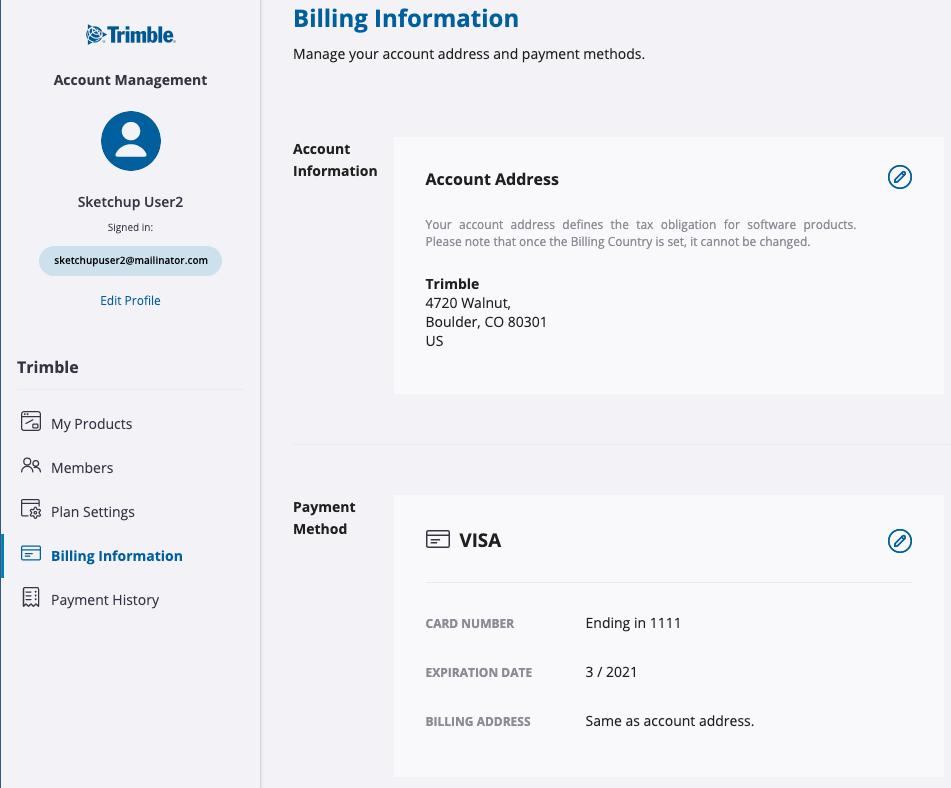 Note: The Billing Information is independent from your User Profile settings. If you wish to edit your User Profile settings you may do so by clicking Edit Profile in the left sidebar.
Edit Profile or Remove Your Sign-in Account
In the Edit Profile section of the Trimble Account page, you can change your language preferences, timezone, password, address, and other information.
Beware that removing your account here will delete your access to your subscription and will remove some records of your purchase. Removing your account is not the right way to cancel a subscription. You can cancel a subscription with
these instructions.
Editing the Profile does not let you change the account owner. We hope to roll out that feature in the future, but it's not currently an option.
Deleting Your Account Entirely
If you wish to delete both your purchase and all of your contact information from our records, you can erase your information from our systems from the link in our Privacy site. Know that deleting all of your contact information will impair our ability to ever create a refund or find any history of your purchases. Your account would be completely eliminated.
Any other questions?
If you think something else should be on this page, please provide the link to this article in a Help Ticket and tell us what other subscription management questions you have!
TAGS