When you first open 3D Warehouse via SketchUp or a web browser, you see the 3D Warehouse main page. From this page, you can start a search, browse by category, find collections of models uploaded by other users, or explore catalogs uploaded by manufacturers and developers.
When you find a model that interests you, click its thumbnail image to see the model details page, which includes a description, statistics, viewing tools, sharing tools, comments from other 3D Warehouse users, and more.
The following sections take you on a brief tour of the 3D Warehouse main page and the model details page.
Starting at the 3D Warehouse main page
The 3D Warehouse main page includes search tools and navigation features, called out in the following figure. These tools and features help you start exploring 3D Warehouse right away: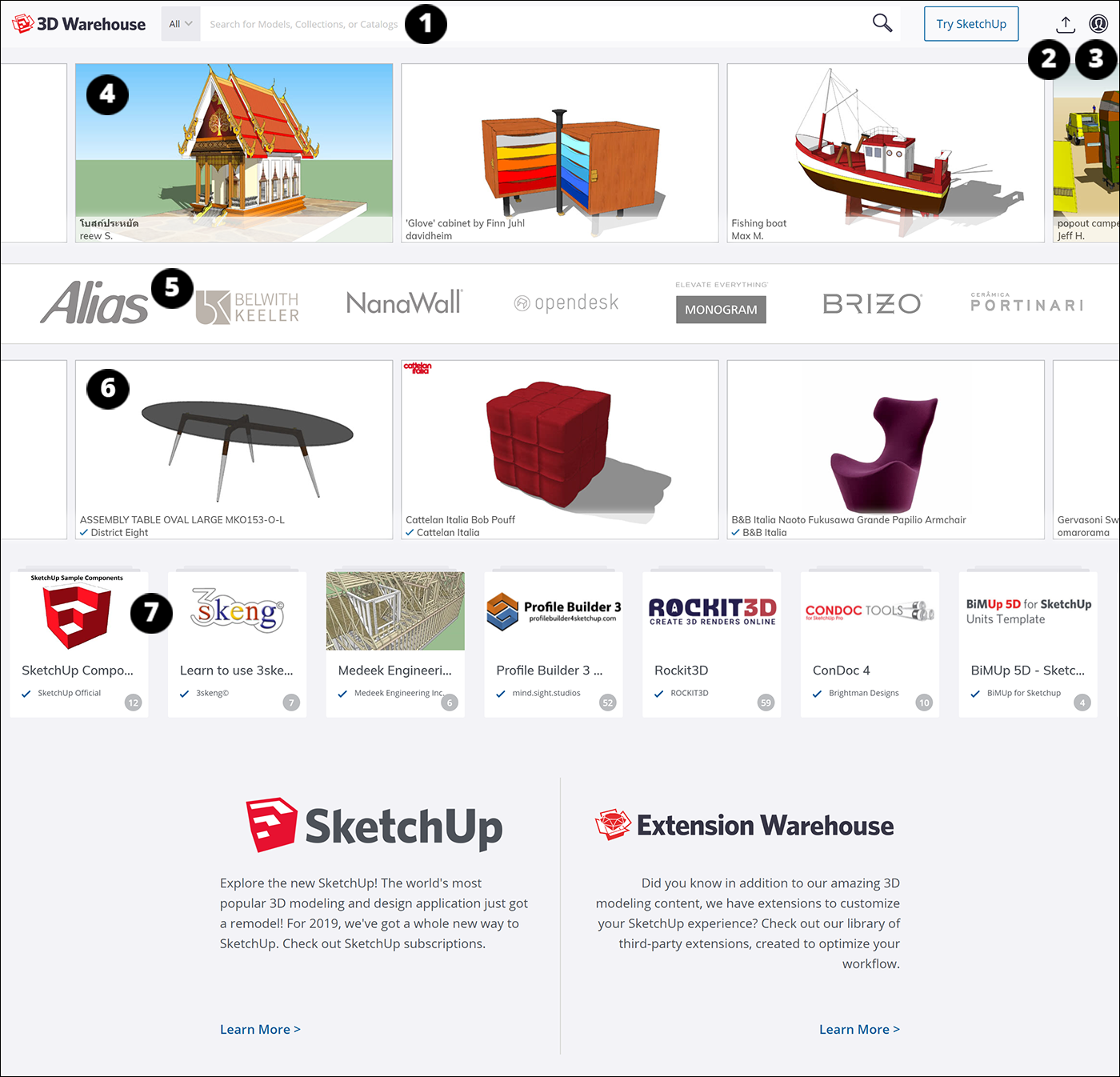 Search box: Type a search term in the Search box and press Enter. 3D Warehouse shows you models with a title, description, or hashtag that matches your search term.
Upload a model: Click this button to begin uploading a model. You need to sign in with your account to upload a model (if you're not signed in already).
Sign In link/user menu: Click the Sign In link to sign in to 3D Warehouse with your Trimble ID. After you sign in, this link becomes the user menu.
Featured community models: See 3D models that are popular or created by skilled 3D modelers.
Featured catalogs: Browse verified manufacturers that have created catalogs of their products (such as appliances, furniture, or materials) on 3D Warehouse. Catalogs enable you to browse models and materials from these well-known brands.



Tip: When a commercial entity is verified, a blue checkmark appears next to the creator's name on the model thumbnail image and model details page. When you see the checkmark, you know the product model comes from the actual manufacturer, not a modeler who is a fan of their work. For example, to see models of Herman Miller furniture created only by Herman Miller, you can open the Herman Miller catalog.

Featured commercial models: This area features models that manufacturers created for 3D Warehouse.
Featured users: Look here for featured 3D Warehouse users, including the SketchUp Official profile.
Checking out the model details page
You've flipped through catalogs, scanned search results, or peered into other users' collections, and — hooray! — a model catches your eye. You click its thumbnail image, and the model's detail page appears, with tools, details, and information galore! Here's a look at the tools and features you find on the model details page, as called out in the following figure: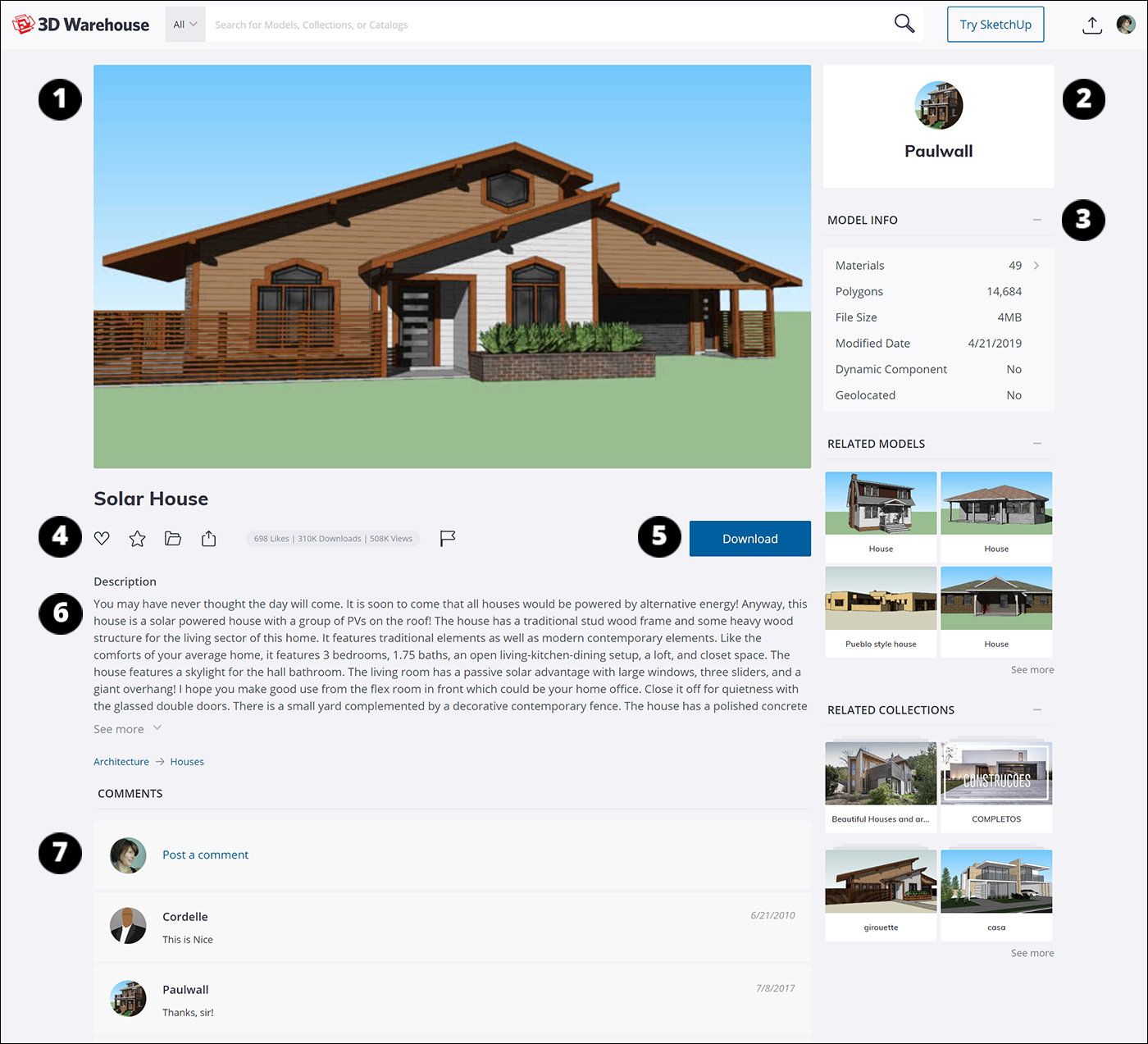 Preview: By default, you see the model's thumbnail image in the main preview area. To see a 3D preview of the model, hover the mouse pointer over the image and click the 3D Model button that appears.

In the 3D preview, you can click and drag the Orbit tool to see the model from different perspectives. To access other tools, open the panel on the right to select different views or scenes or select the Pan, Zoom, or Zoom Extents tool. To open a large preview, click the Full Screen icon in the lower right of the preview window and press Esc to leave the full-screen view. To return to the model's image preview, click 3D Warehouse in the lower left of the 3D preview.



Note: The 3D preview of your model requires a WebGL-enabled browser.

Model author: See which user uploaded the model. A blue checkmark by the author's name means the creator is verified. For example, the SketchUp Official user is verified as an official 3D Warehouse account for SketchUp.
Model Info: Here you find basic data about the model. To get a sense for a model's complexity, check out the file size and the number of polygons and materials the model contains.
Icons: Click the following icons to access a 3D Warehouse feature:

Like: If you're signed in to your account, click the Like button () to tell the model creator you like their model.



Note:

If you used the Like button to also save models to your Liked Models folder, that folder still exists and holds all the models you've liked. However, as of October 2019, liking a model no longer saves it to the Liked Models folder. Instead, use the Favorites button (

) to save the model to your Favorites folder.

Favorites: Favorites gives you a quick and easy way to curate a folder of your favorite models. To save a model to your private Favorites folder, click the Favorites button (). To see the models in your Favorites folder, open your 3D Warehouse Models page by selecting Models from the user menu.
Folders: Click the Folders icon () to add a model to an existing folder. Unlike collections, folders are private, so only you can view them.
Collections: Click the Collections icon () to add a model to an existing collection. Collections are public so you can share them with the 3D Warehouse community.
Embed: Click the Embed icon () to open a window that contains a code snippet you can copy and paste to embed the model thumbnail image or 3D Viewer preview on a web page.
Report Abuse/DMCA: If you come across a model that violates the 3D Warehouse Terms of Use, you can alert the folks at SketchUp by clicking the Report Abuse/DMCA icon (). If you believe that your work has been copied in a way that constitutes copyright infringement, use this button to contact Trimble's DMCA administrator. Clicking this button opens a form where you can clarify the problem you see with the model.

Download button: Click this button to download the model. If you visit 3D Warehouse via the SketchUp File menu, clicking the Download button displays a dialog box that asks whether you want to download the model into your current SketchUp model. If you visit 3D Warehouse via your web browser, clicking the Download button might reveal options to download different versions of the model. Your options depend on what the model creator uploaded to 3D Warehouse.
Description: The model's author uploads a description with the model file. Some model descriptions are more detailed than others, but you can often learn a bit about model or component features. When you upload a model, you can also add hashtags to your description that make your model easier to find. Start by typing # and the autocomplete feature suggests useful hashtags as you type.
Comments: You can check the comments for feedback from other 3D Warehouse users or updates from the model author. To leave a comment, you must be signed in.
Tip: If you like a model, you can easily find other models and collections by the same author. Click the Models by This Author section or the Collections by This Author section in the right-hand sidebar.