When SketchUp crashes you will see Bug Splat, a third party application integrated into SketchUp that helps us collect crash information.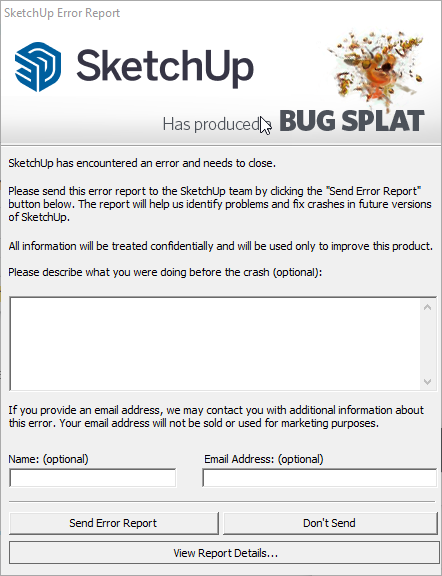 With Bug Splat you can send us data about the crash you just experienced and save a copy of
that data for yourself. We encourage everyone to submit an error report when a crash happens. When filling out an error report we ask you to provide specific details about what happened when you experienced the crash. Here's an example:
SketchUp seems to crash afterI perform the following actions:
Open SketchUp
Draw a rectangle
Select it
Copy the rectangle
Paste the rectangle
The crash happens after I paste the rectangle.
Providing a name and email address in your error report can help our support team find your error report when contacting them. We also encourage you to view and save your own copy by clicking View Report Details.
How We Use Error Reports
The data submitted through error reports helps SketchUp gather information on the crashes our users experience. The details in the error report, especially the code we receive, can help us make sure these crashes don't happen again in the future.
Note: SketchUp cannot monitor every crash that happens and we normally do not contact users except in specific circumstances.