In the way clothes say something about the people wearing them, SketchUp styles convey information about your model. Like a paint-splattered pair of overalls, the sketchy edges style suggests that your model is still a work-in-progress. A hot pink geometric gown with a bubble-shaped hat from Junya Wantanabe's Spring 2015 couture collection is something like a full-color mockup of a modern building with transparent window glass and limestone brick, custom paint colors, and a slanted metal roof.
To add a style to your model the easy way, apply one of many predefined styles to your model. Each predefined style represents a collection of specific settings for the edges, faces, and background. To select and apply a predefined style, follow these steps:
Select Window > Styles. Open the Styles dialog box in the Default Tray. At the top of the Styles browser that appears, you see the thumbnail, name, and description for the currently selected style.
Click the Select tab (if it's not already selected).
From the Styles Collections drop-down list, select a collection, such as Default Styles, Color Sets, or Sketchy Edges. In the figure, the Color Sets collection is selected.

Click a style thumbnail. The style is applied to your model and the drawing area, as shown in the following figure.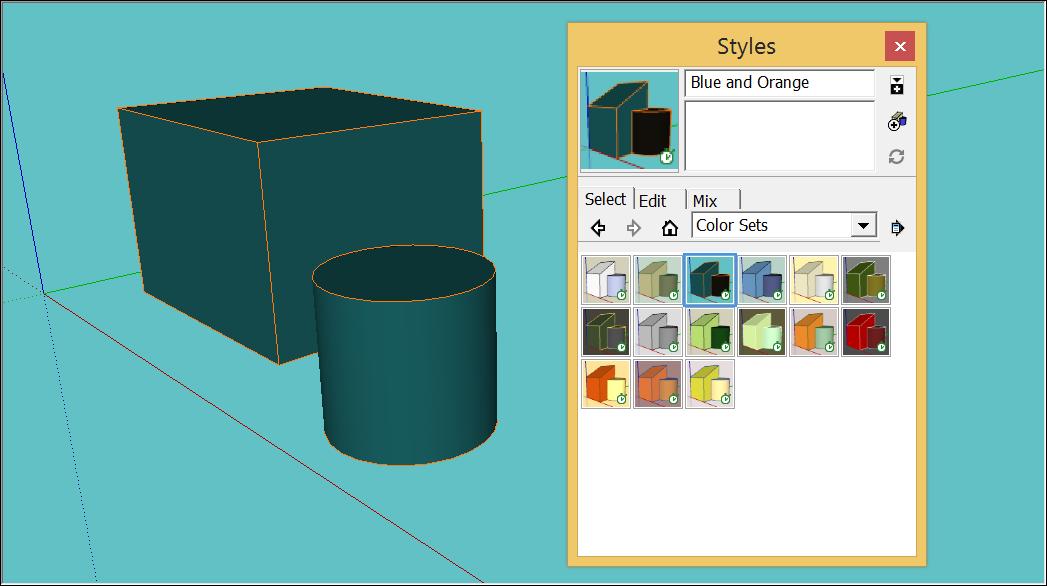 If the predefined styles and collections aren't quite what you need, the Styles browser also includes powerful tools for customizing styles, managing your own collections, and sharing styles:
TAGS