Ready to start creating, editing, and viewing models in SketchUp for Web? We want to help you get started with some basic information including what you need, a tour of the interface, and how SketchUp for Web is different from its desktop cousin..
What You Need
To start using SketchUp for Web, you need the following:
A Trimble ID or Google Account - SketchUp for Web is a web-based SaaS (software as a service) product. Signing in gives you access to Trimble Connect, where you can collaborate, share, and view 3D models with 10GB of free online storage. Trimble Connect also helps you keep work up to date across all SketchUp apps. To learn more about Trimble Connect, visit the Trimble Connect home page.
An Internet Connection - SketchUp for Web is web-based and you must be online to use it. We recommend a reliable internet connection with at least 10 Mbps download and upload speeds.
A Desktop or Laptop Computer - SketchUp for Web works best on devices that have an accelerated video card, plenty of system memory, and a strong processor capable of handling complex models with lots of geometry. See the Hardware Requirements for more information.
An Up-to-date Web Browser - SketchUp for Web depends on WebAssembly technology, requiring cutting-edge browser support. For the best experience, we recommend the latest versions of Chrome, Firefox or Microsoft Edge. SketchUp for Web will work in Safari but we cannot confidently recommend this browser at this time.
Tip: SketchUp works best when you use a mouse and a keyboard. A three-button , scroll-wheel mouse makes it easier to orbit, zoom, and precisely position while modeling.
The SketchUp for Web Interface
Whether you're totally new to creating 3D models or an experienced SketchUp user who's trying SketchUp for Web for the first time, this section can help you find your way around the SketchUp for Web interface.
SketchUp for Web looks and works a lot like SketchUp for Desktop with just a few differences. When you first open SketchUp for Web you'll see the Home screen.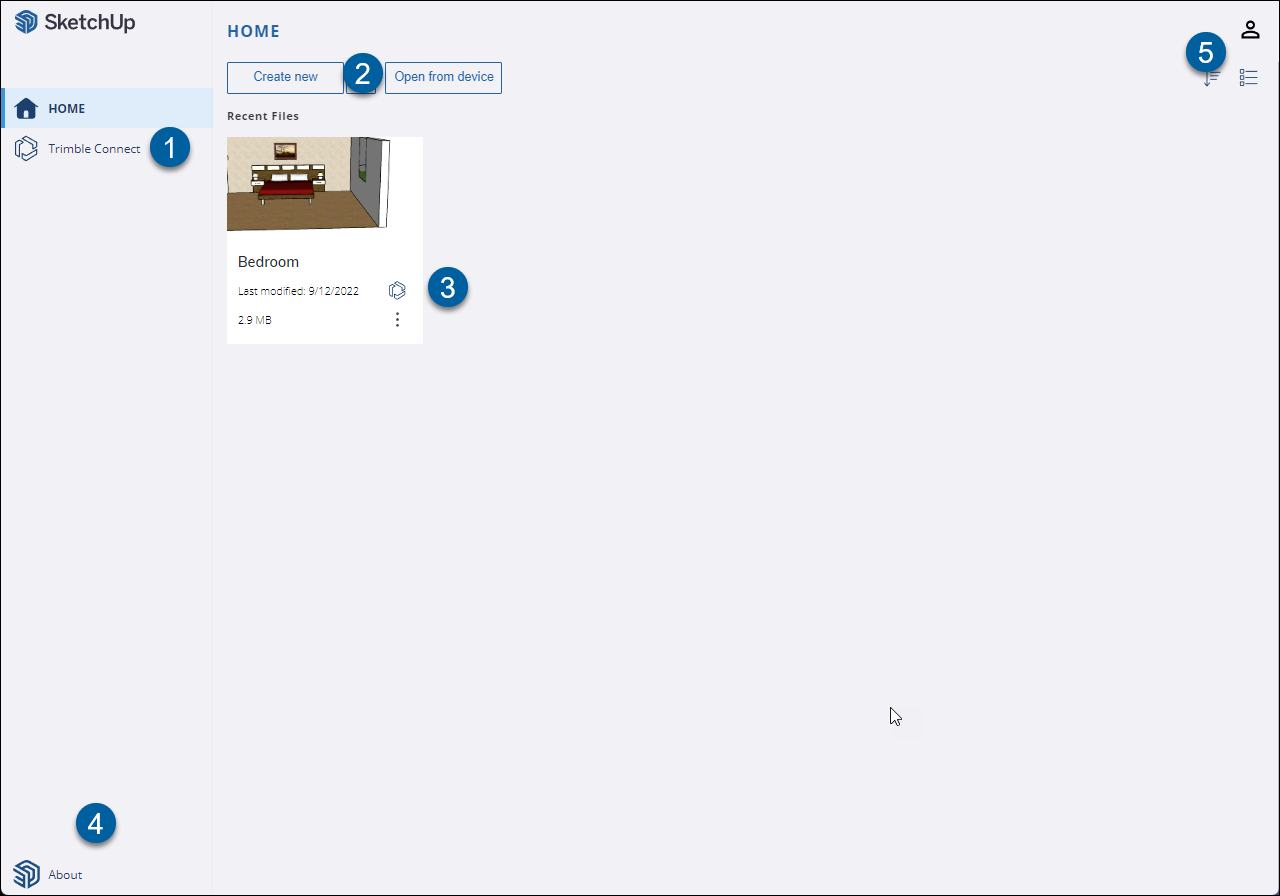 From the Home screen you can:
Access Trimble Connect.
Create a new model or import a locally saved model.
Choose from a list of recently opened models.
See SketchUp's About information.
Access your Trimble account information.
Once you open a model, SketchUp for Web's modeling interface contains all the tools and options you need to create stunning 3D models. Let's take a tour: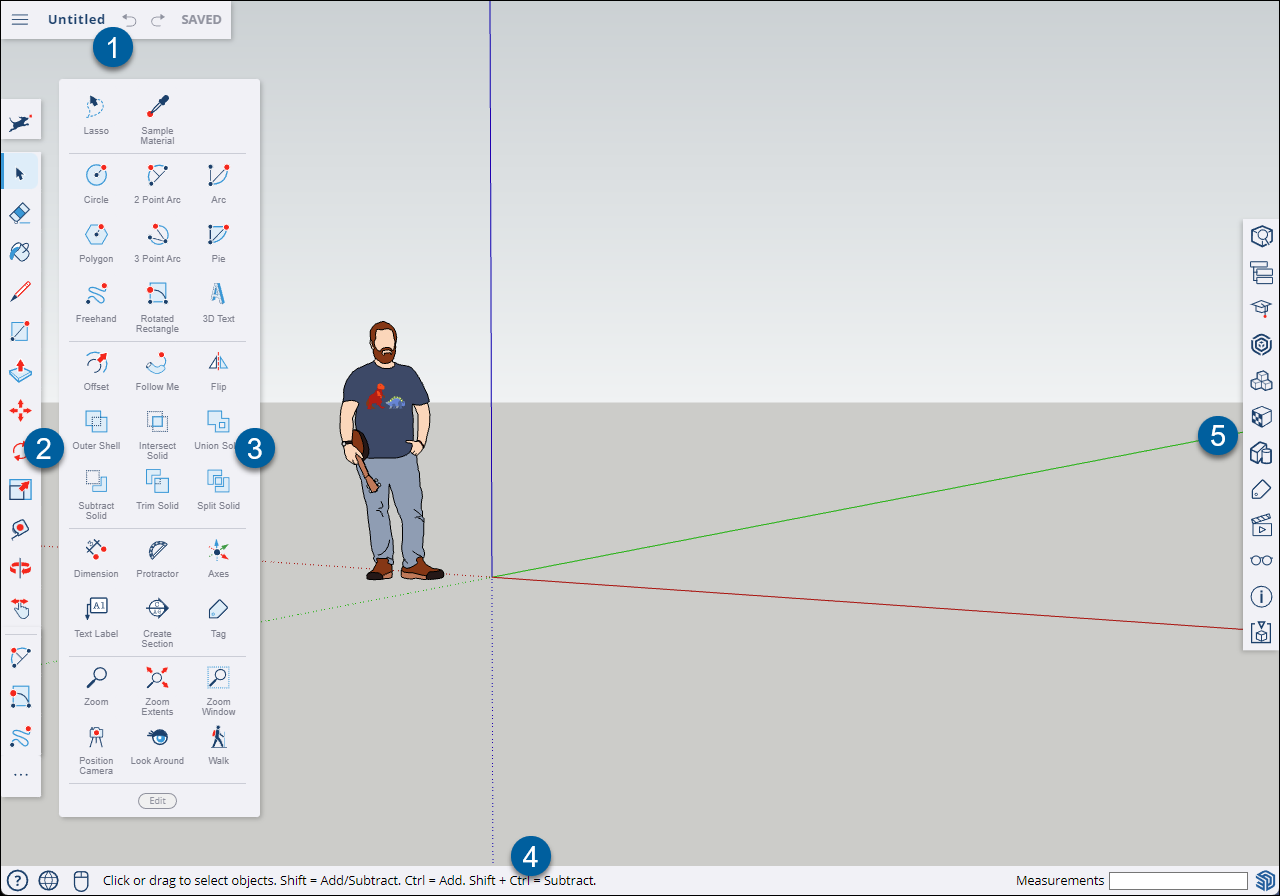 Main Menu Bar - Includes the Main Menu (), the name of your model, Undo (), Redo (), and the save status of your model.
Main Toolbar - The Main Toolbar contains the basic tools you need to get started.
Expanded Toolset - The Expanded Toolset is home to all of your other SketchUp tools.
Status Bar - From left to right you'll see:

- Links to the Help Center, our forums, Technical Support, and a Search option
- The language menu
- The input device selector
Tips and options for the selected tool
The Measurements box

Panels - Each panel represents a different group of options to help you take your model to the next level. We'll cover the panels available in SketchUp for Web in Creating and Editing Models.
Tip: If you're not certain what a tool is, tooltips appear when you hover over a tool. Details about active tools appear in the status bar and in the instructor panel.
The Main Menu (

) contains several options to help you manage your model:
Home - Returns you to the Home screen.
New - Creates a new model file.
Open - Opens an existing model file.
Save as - Saves your model.
Import - Imports other files or images into your model.
Export - Exports your model to other formats.
Download - Downloads your model using a specific format.
App Settings - Opens the Settings window.
Add Location - Use the Add Location service to add geo-location imagery and date to your model.
Print - Print or create a .pdf of your model.
SketchUp for Web's Features
Here are a few key differences between the way SketchUp for Web and other versions of SketchUp work:
Styles - SketchUp for Web includes preset styles. You can only edit styles or create your own style templates with a SketchUp subscription.
Materials - SketchUp for Web includes preset materials. You cannot edit or create new materials.
Keyboard Shortcuts - SketchUp for Web shares functionality with your web browser. When familiar SketchUp keyboard shortcuts are in direct conflict with your browser, those shortcuts can't be used.
Extensions - Extensions are Ruby scripts that add functionality to SketchUp and are not available in SketchUp for Web.
Dynamic Components - Dynamic Components are not available in SketchUp for Web.
High-resolution printing - You can print files or download your file in .png format, but you cannot print high-resolution images to scale via SketchUp for Web.
Almost everything about SketchUp is built into the SketchUp for Web. If your favorite feature isn't there yet, please let us know via the SketchUp for Web forum.