When you first visit 3D Warehouse, either from within SketchUp or through a web browser, you see the 3D Warehouse main page. From this page, you can start a basic or advanced search, or explore models organized into catalogs and collections.
When you find a model that interests you, click its thumbnail image to see the model details page, which includes a description, statistics, viewing tools, sharing tools, comments from other 3D Warehouse users, and more.
The following sections take you on a brief tour of the 3D Warehouse main page and the model details page.
Starting at the 3D Warehouse main page
The 3D Warehouse main page includes navigation tools and features, called out in the following figure. These tools and features help you start exploring 3D Warehouse right away:
Search box: Type a search term in the Search box and press Enter. 3D Warehouse shows you models with a title, description, or hashtags that match your search term. See Searching for and Downloading Models for details.
Sign In link: Click the Sign In link to sign in to 3D Warehouse with your Trimble or Google Account.
Featured models: Featured models highlight popular and well-designed models from skilled 3D modelers.
Featured catalogs: See a favorite appliance, furniture, or materials manufacturer? Catalogs enable you to browse models and materials from well-known brands.
Featured geomodels: Geomodels are models that have been assigned a specific longitude and latitude so you can place them on Google Earth terrain or see how the sun and shade appear on different days or times of day. In the SketchUp Make and SketchUp Pro area of the Knowledge Center, see Modeling Terrain and Other Rounded Shapes and Casting Realistic Shadows for details about working with geomodels.
Featured collections: A collection is a way of organizing models in 3D Warehouse. A collection contains models and sometimes other collections. If you have an account, you can create your own collections.
Recent models: Here, you find models that others have recently uploaded to 3D Warehouse.
Featured artists: Click any artist to see the models they've added to 3D Warehouse.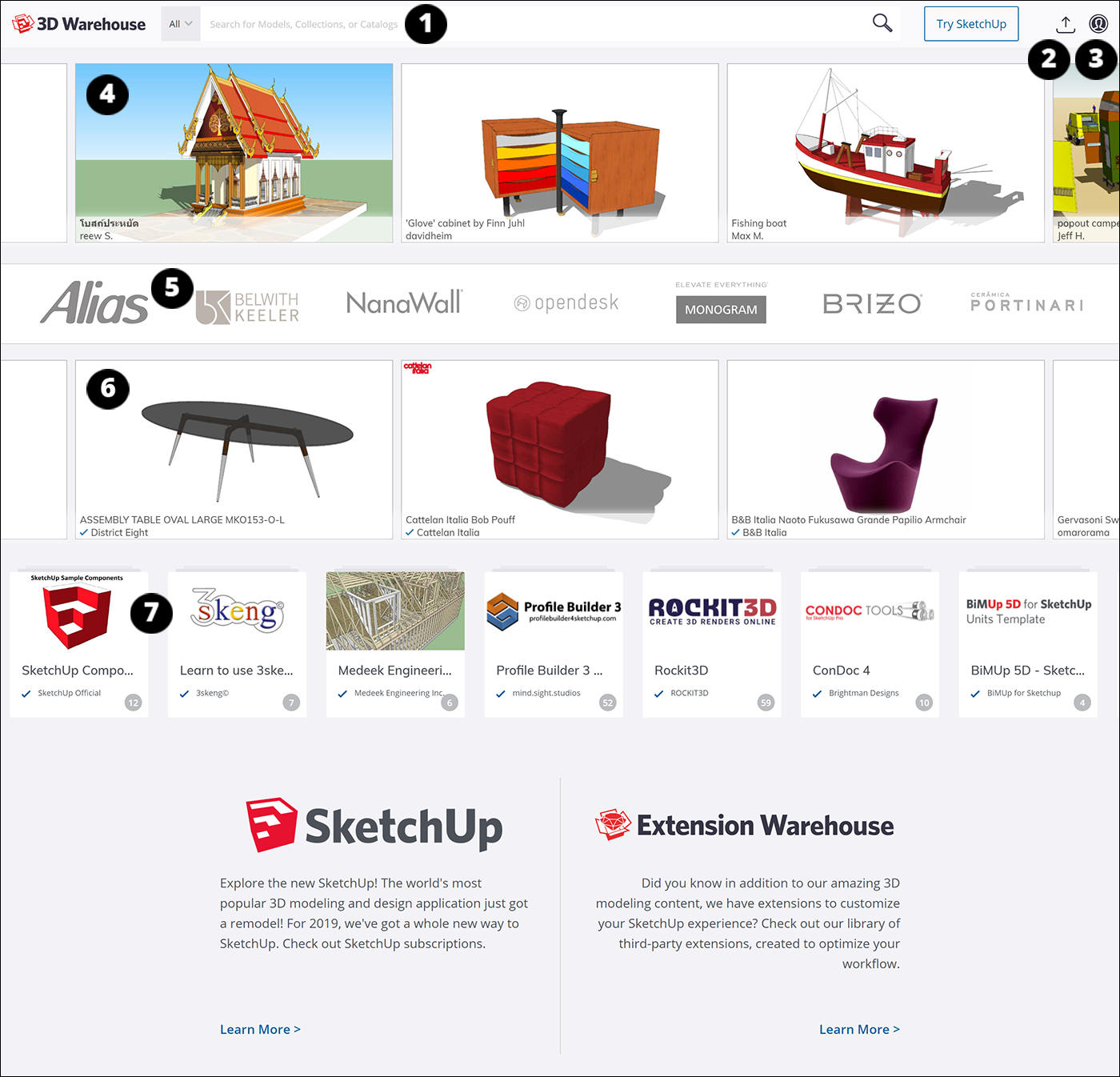 Tip:
In the lower right of each model preview image, you can click the
Download
icon (

), and the model downloads to your current SketchUp model (if you came from SketchUp) or to your Downloads folder (if you're using your web browser).
Note:
If you access 3D Warehouse from a browser, you also see an
Upload Model
button. You can click this button to begin uploading a model, but you need to
sign in with your account
to upload a model (if you're not signed in already).
Checking out the model details page
You've flipped through catalogs, scanned search results, or peered into other users' collections, and — hooray! — a model catches your eye. You click its thumbnail image, and the model's detail page appears, with tools, details, and information galore! Here's a look at the tools and features you find, as called out in the following figure: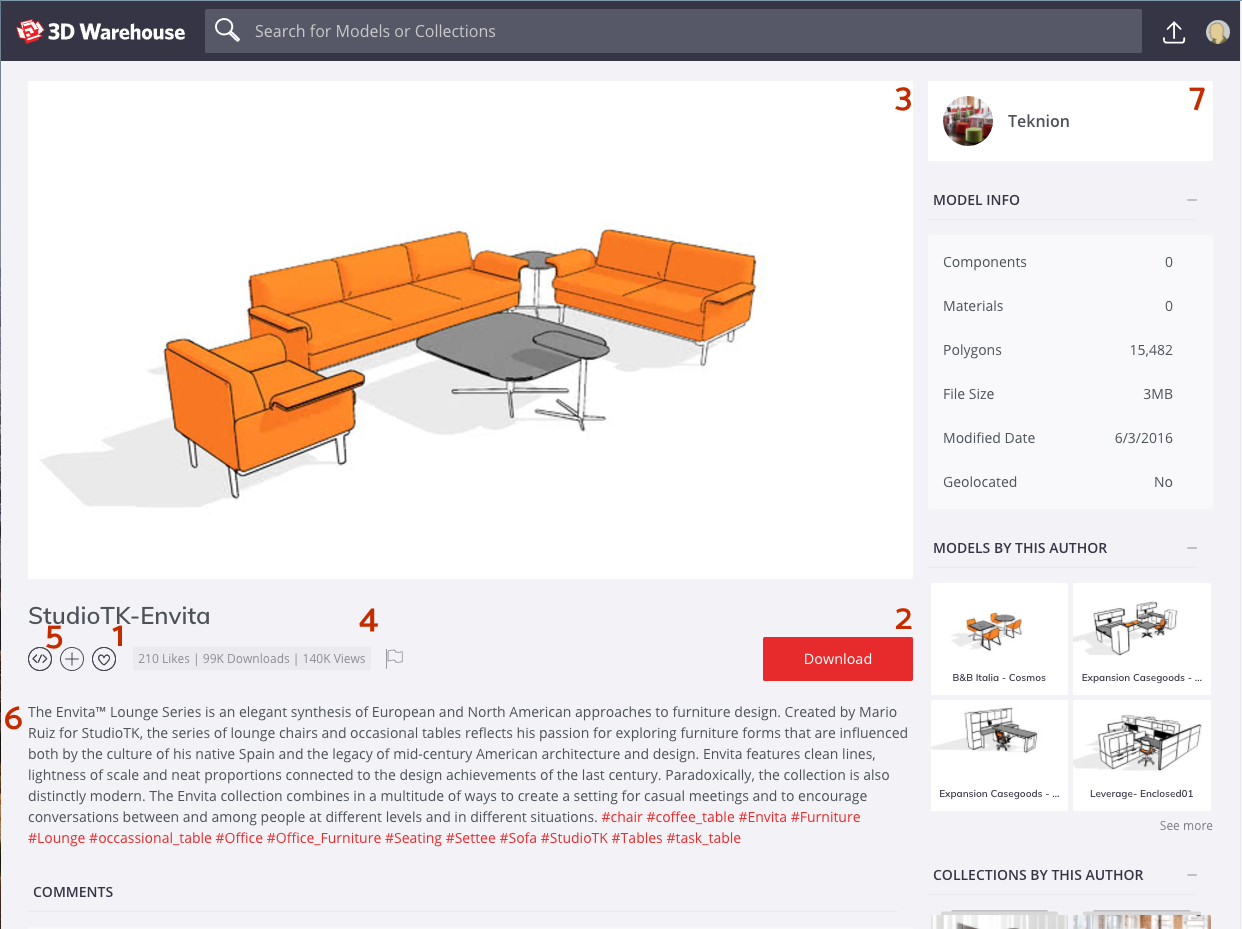 Like button: If you're signed in to your account, click the Like button () to save the model as a Liked model on your My 3D Warehouse page. See Creating a User Account and Signing In for details.


Download button: If you visit 3D Warehouse via the SketchUp File menu, clicking the Download button displays a dialog box that asks whether you want to download the model into your current SketchUp model. If you reached 3D Warehouse via your web browser, you may see options to download different versions of the model. Your options depend on what the model creator uploaded to 3D Warehouse. For details, see Searching for and Downloading Models.
Preview: By default, you see the model thumbnail in the main preview area. However, click a preview tool (just below the Download button) to switch to the 3D WebGL Viewer () or the Download & Views Statistics (). The 3D WebGL Viewer enables you to see a 3D view of the model (as long as you have a WebGL-enabled browser), just as you can with SketchUp's Orbit tool. Download Views & Statistics displays a dynamic chart of downloads and views over time. Click Model Thumbnail () to return to the default view.
Model statistics: Here you find basic data about the model. For example, see how many downloads and likes a model has received. To get a sense for a model's complexity, check out the file size, polygons, and materials the model contains.

Note:

Generally speaking, 3D Warehouse is a friendly community of SketchUp modelers who want to share their models with others. However, if you come across a model that violates the

3D Warehouse Terms of Use

, you can alert the folks at SketchUp by clicking the

Report Abuse

"Flag" to the right of the Model Statistics. Fill out the form to clarify the problem you see with the model.

Share tab: Click a social media icon to share this model on Google+, Facebook, Twitter, or Pinterest. You'll need to provide your login information for the social media service in a dialog box that appears.
Embed tab: Click Thumbnail or 3D Viewer, and a dialog box appears with code you can copy and paste in order to share the model thumbnail image or 3D Viewer preview on a web page.
Model description: The model's creator uploads a description with the model file. Some model descriptions are more detailed than others, but you can often learn a bit about model or component features. You can also add hashtags to your description that make your model easier to find. Start by typing # and the autocomplete feature suggests useful hashtags as you type.

Note: The hashtags feature replaces the old tags feature. If you uploaded an older model with tags, those tags have been converted to hashtags.

Model author: The model author is the person who uploaded the model. Click the model author name to see their profile page.
Scroll down the page a bit, and you see collections that feature this model as well as comments from other users. You can check the comments for feedback from other 3D Warehouse users or updates from the model author. To leave a comment, you must be signed in.
TAGS