SketchUp Desktop 2019 now supports Dashed Lines which can then be used within LayOut for rendering effects. Try the latest version to learn more.
When you import a SketchUp model into LayOut, the dashes created in the SketchUp model appear in your LayOut document. This functionality is helpful for workflows that combine CAD and/or SketchUp with LayOut because models inserted into Layout look the same and retain their structure.
For example, dashed lines you import from CAD will appear in SketchUp and carry through to your LayOut documents. Note: If you're looking for details about working with dashed lines from a CAD file imported into LayOut, see Importing CAD Data into LayOut.
To see how the process works, here's a simple model created in SketchUp and then imported into LayOut.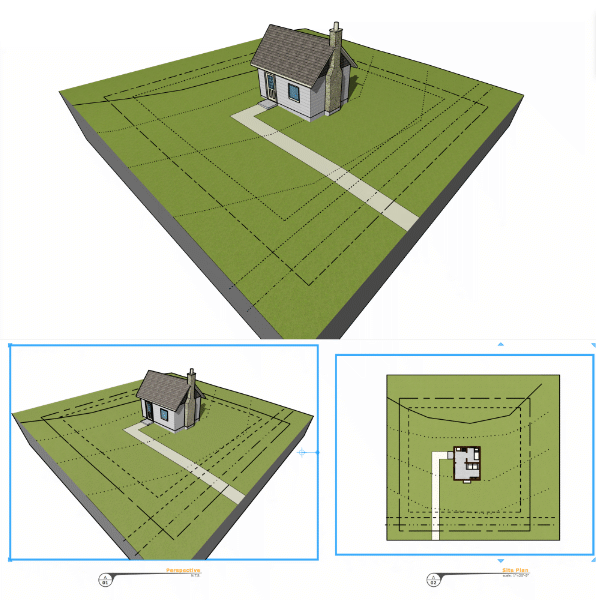 After you insert a SketchUp model with dashed lines into a LayOut document, you can view the dashed lines, adjust their scale, and edit their line thickness if needed. LayOut is also the best tool in the SketchUp suite for printing models with dashed lines.
Choosing a rendering mode
LayOut has three rendering modes for viewing SketchUp models inserted into a document. Here's what you need to know about displaying dashed lines in a SketchUp model viewport in each of these modes:
Vector and Hybrid: These modes are great for Crisp edges Hybrid does well handling a combination of materials or colors and crisp edges.
Raster: You can work with additional display possibilities and rendering styles including back edges, sketchy edges.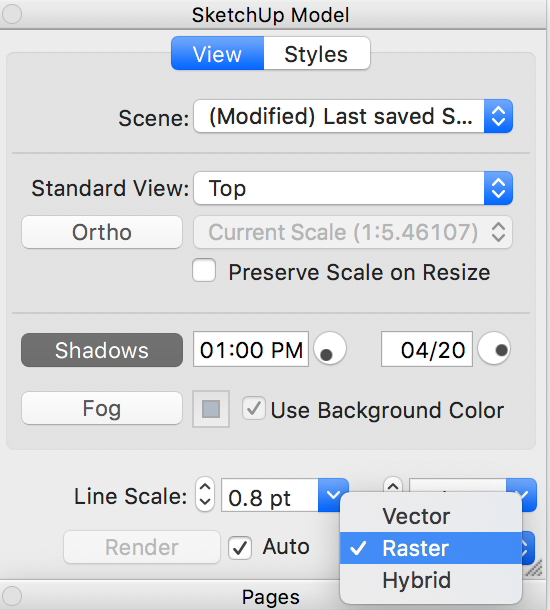 Editing dashed lines and stipple lengths
After you insert a SketchUp model into a LayOut document, the line scale has a default of 0.5pt and Auto.
Tip: You can overlay two SketchUp Model viewports with different into Layout to achieve different line thicknesses for different content. For example, you can bring in a furniture viewport with a 0.5pt size and a floorplan viewport with a 1pt size. Leaving the dash scale is set to auto, will ensure that the length of dashes remains the same between these two viewports.
If the lines styles don't have your desired look after import in LayOut, you can edit the line width and stipple scale in the SketchUp Model panel using the Line Scale point size and scaling factor drop-down lists.
To edit the point size and scale, start by selecting your new point size. Then choose your desired scaling factor.
Alternatively, you can convert a SketchUp model viewport into an editable vector drawing and adjust the line widths and styles of individual edges using the Stroke settings in LayOut. To do that, follow these steps:
In the SketchUp Model panel, clear the Auto checkbox.
Select Vector from the rendering mode drop-down list.
Click the Render button.
Context-click the SketchUp viewport and select Explode. Lines from the SketchUp model viewport become vector shapes.
Edit the dashed lines via the Shape Style panel.
Note: SketchUp and LayOut support the same default set of dashes.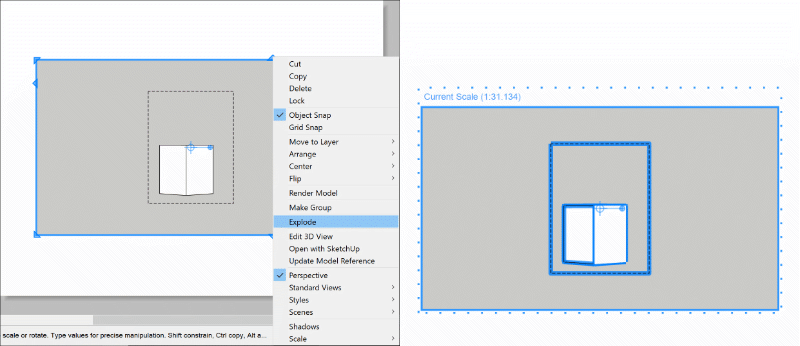 Printing dashed line styles in LayOut
LayOut excels at printing your documents at the correct scale based on what is visible within the document. LayOut also gives you more control over the exact output of your printout than you have printing from SketchUp. For these reasons, printing your models with dashed lines from LayOut is recommended.
Within the SketchUp model viewport, you can adjust the view of your model to change what will appear in your printout.
For details about printing from LayOut, see Exporting or Printing Your LayOut Document.