Your My 3D Warehouse page is the place to go for information about your models, collections, likes, and even your profile settings. Cool, right? Let's take a quick tour:
My 3D Warehouse
After you Sign In to 3D Warehouse, choose My 3D Warehouse from the User drop-down menu.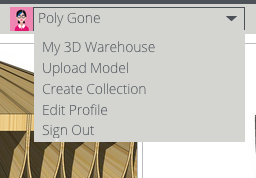 On your My 3D Warehouse page, you'll find your public User Profile information above, and a number of tabs below. For more information about editing your User Profile, please read Editing Your 3D Warehouse User Profile.
The first tab contains Models. Click on this tab to see all of your public and private models. The results are displayed in one big list, and if you prefer, you can use the Results Per Page drop-down menu to view a certain number of results per page. If you click on the Sort drop-down menu, you will see lots of useful ways to sort your models.
The Collections tab is very similar to the Models tab. Click on this tab to see and sort both your public and private Collections.
The Liked Models tab displays all of the models across the 3D Warehouse for which you clicked the heart-shaped Like button.

Similarly, the Liked Collections tab will display the collections that you've liked.