Alert: At this time, some functionality of the Trimble Account Manager is not available with Microsoft Internet Explorer and Microsoft Edge browsers. We recommend using Google Chrome or Firefox when accessing the Account Manager.
The Trimble Account Management page can be used to track your SketchUp subscription details. Please note that your access and usage may be slightly different based on where and how you purchased your subscription, whether it was purchased directly from sketchup.com or from one of our resellers. Additionally, you may see information for several users if you're administering an account for your organization.
Note: All SketchUp users using a subscription must sign in with their
Trimble ID
(TID) to access both the web based and desktop based software. End user's TID will be used for management purposes in the Trimble Account Manager. When using a Classic license to authorize SketchUp Pro, a TID will not be required.
Tip: The Trimble Account Manager is for managing subscriptions only, if you have a SketchUp Classic License and a Maintenance and Support Plan you'll be emailed when the terms of that plan are expiring or you can visit our
store
to update your billing information for your M&S subscription. There are no other options for management with the Classic license.
Account Management - Online Purchase
If you've purchased a user subscription through the SketchUp Store, you can visit the Trimble Account Manager and you'll see the following: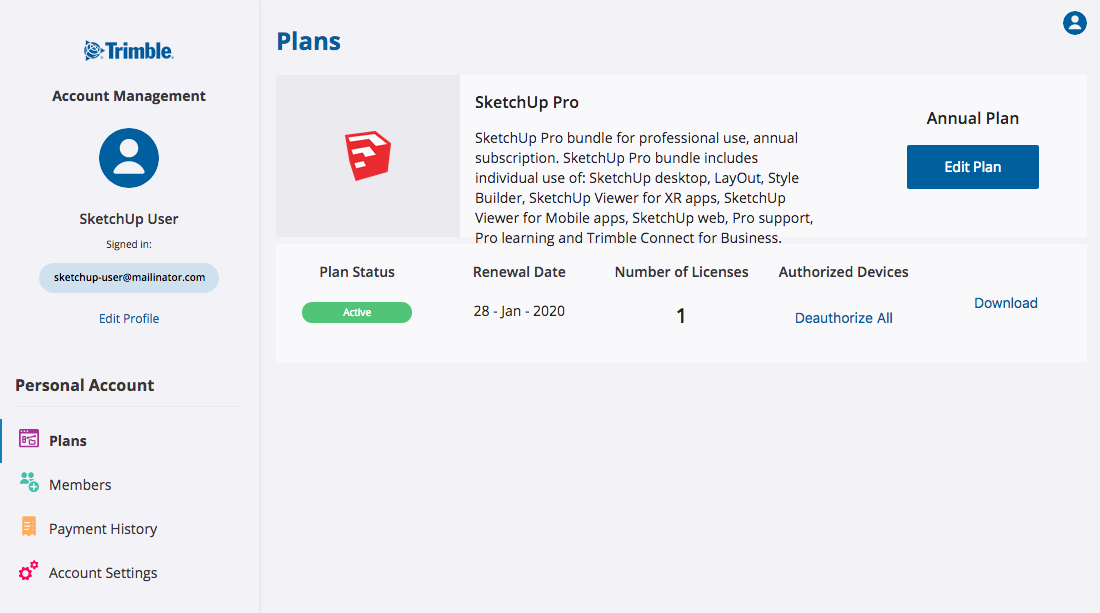 From the Trimble Account Manager, you can see the Plans associated with your account, your Payment History and you can make changes to your Account. If the license is for multiple users, you can also see all members managed by the account.
Note: You'll need to be signed in with your Trimble ID to access the Trimble Account Manager.
If you wish to upgrade your license, you may do so by clicking "Edit Plan" which will present the options below: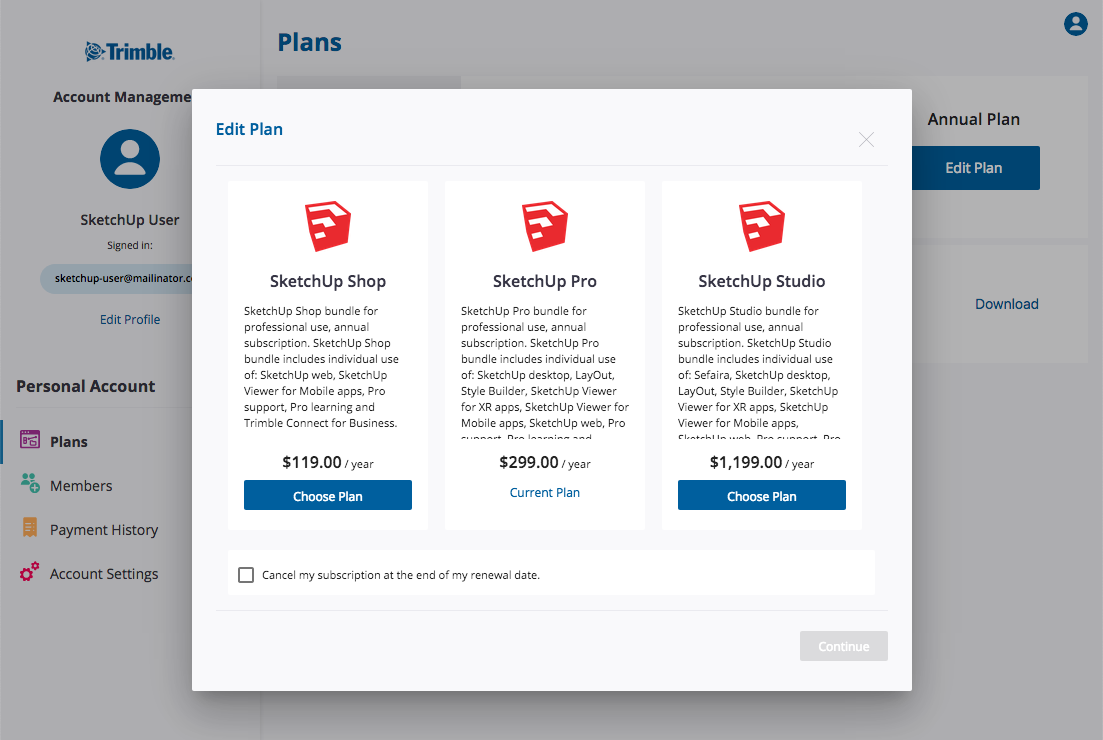 Plans
Once you've purchased a subscription you'll see it listed in the Plans section along with its status, the number of users associated with that subscription and the ability to de-authorize and download the installer. The "De-authorize All" option will remove your subscription authorization from all devices on which it's been installed, this option has a limit of once every 90 days. The Download link will take you to your My Apps page on the website so you can download any of the installers associated with what is covered by your license.
Note: You'll need to be signed in with your Trimble ID to access the Trimble Account Manager.
Managing Members
From the Members pane, if you're subscribed to a plan with multiple seats, you'll be able to see how many seats are currently assigned to users and the number seats still available to be assigned. From this pane you'll have the option to add assign users to your plan.
At a glance you may see the following settings: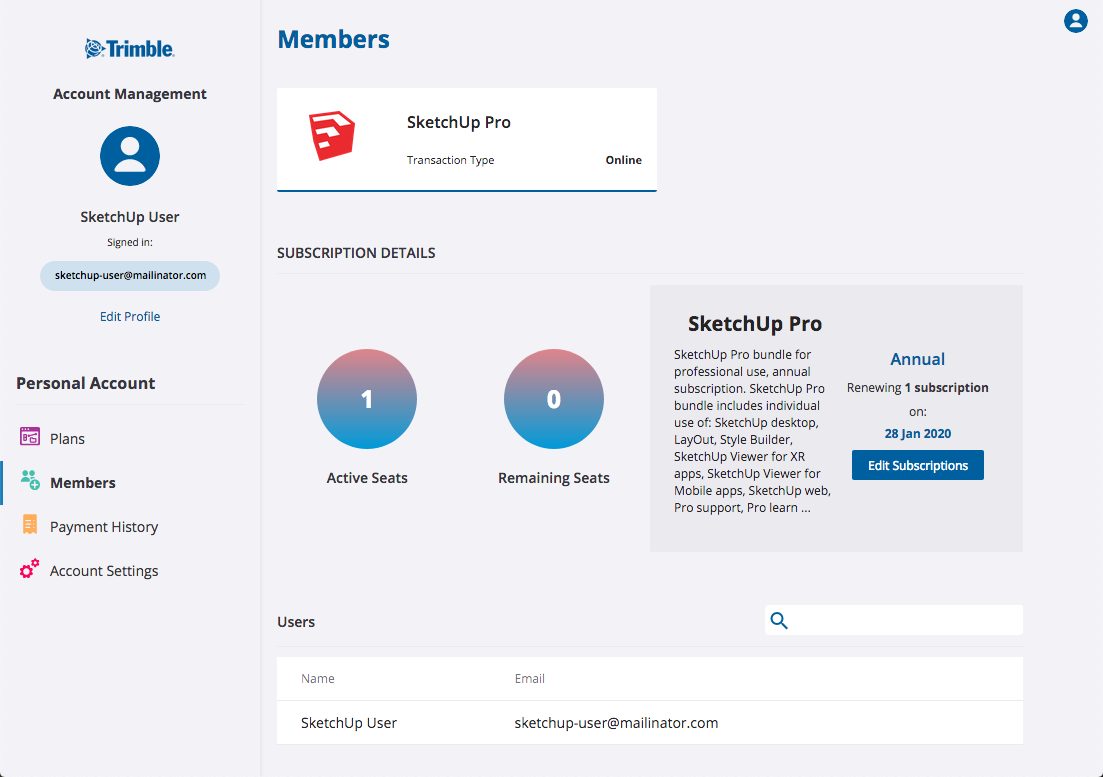 From the Trimble Account Manager you can also choose "Edit Subscriptions which will allow you to purchase additional seats for your currently selected plan as seen below: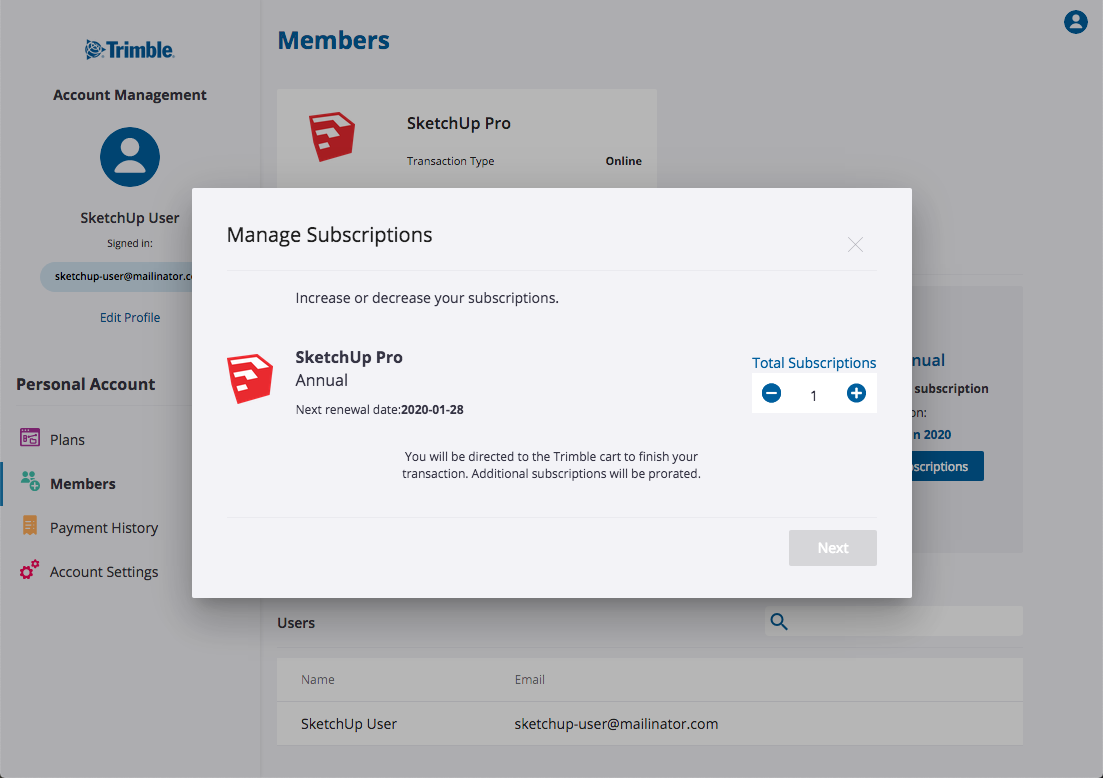 Payment History
You're able to track all subscription transactions made with this Trimble Account including all plans purchased. Note that this will not include any purchase of a classic license.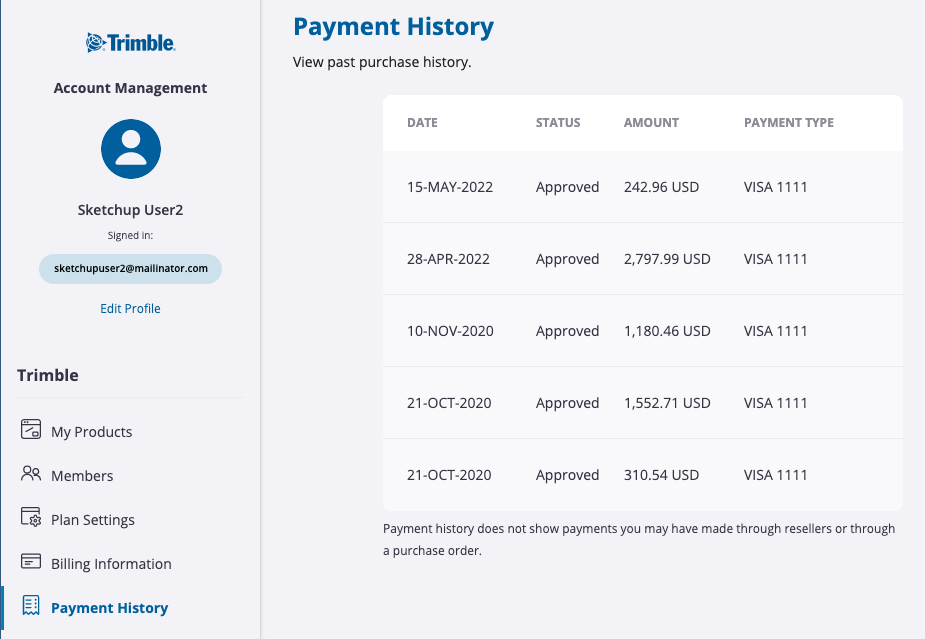 Account Settings
You're able to update your personal or company information under Account Settings including billing details and credit card information.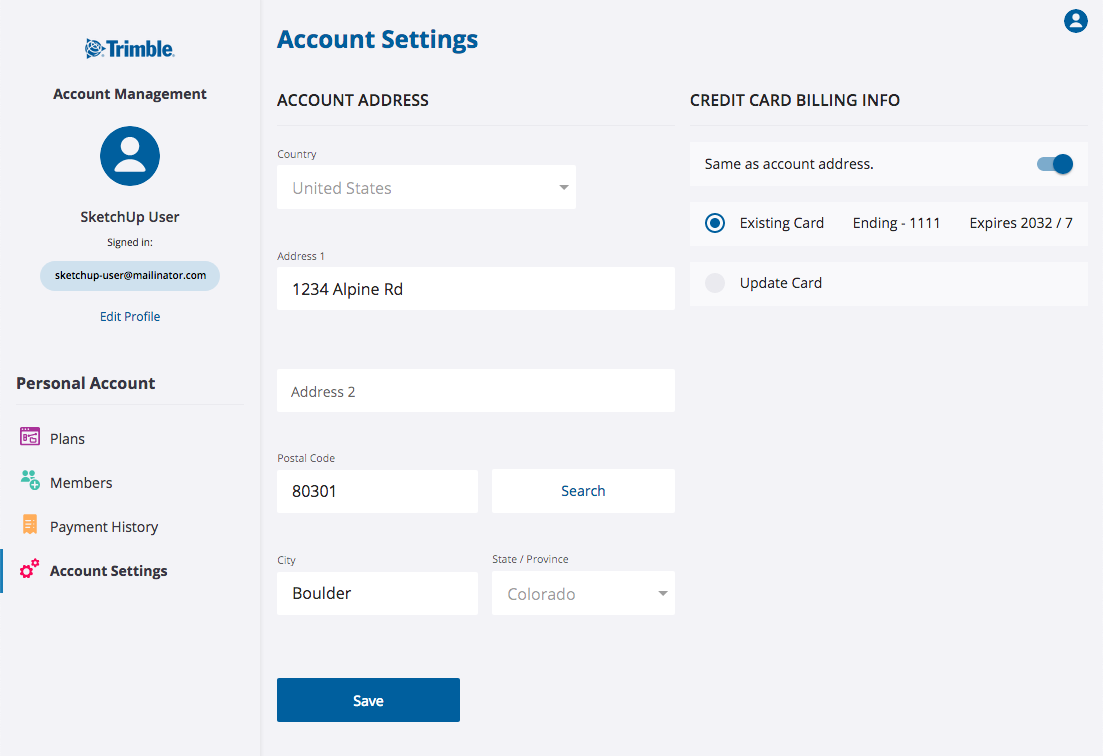 Note: The Account Settings information is independent from your User Profile settings. If you wish to edit your User Profile settings you may do so by clicking "Edit Profile" in the left sidebar.