Introduction to the SketchUp User Interface
< | Using the Mouse in SketchUp >
SketchUp (a Trimble product) is designed to be simple and easy to use. The main parts of the SketchUp interface are the Title bar, menus, toolbars and tool palettes, drawing area, Status bar, and the Measurements toolbar. The following images show the SketchUp user interface.
Windows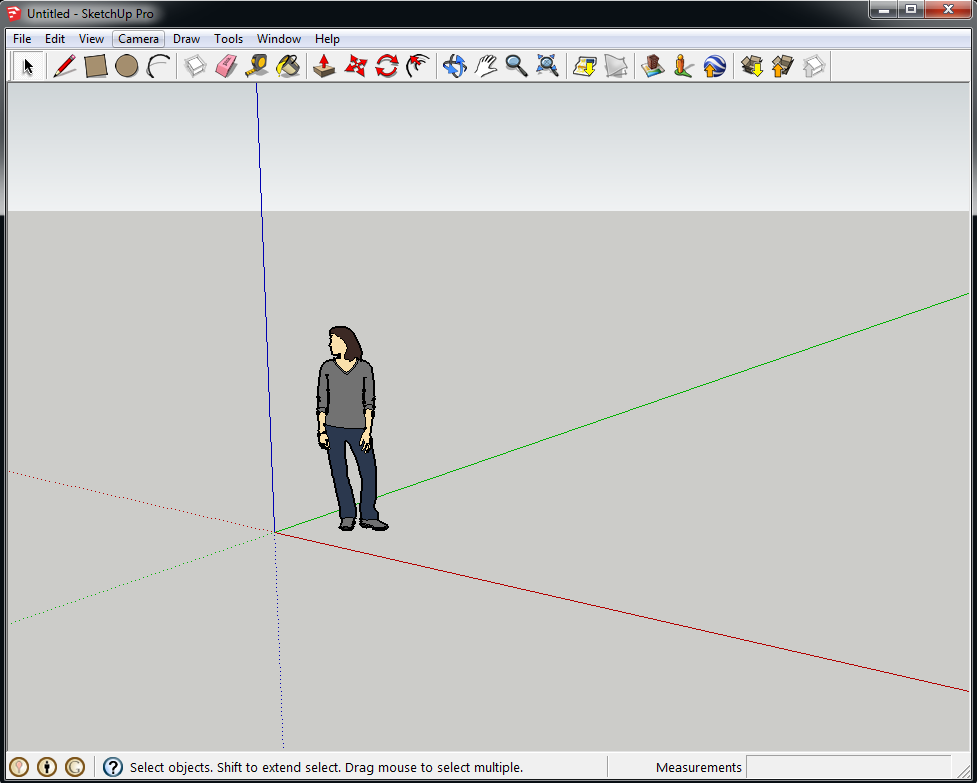 Mac OS X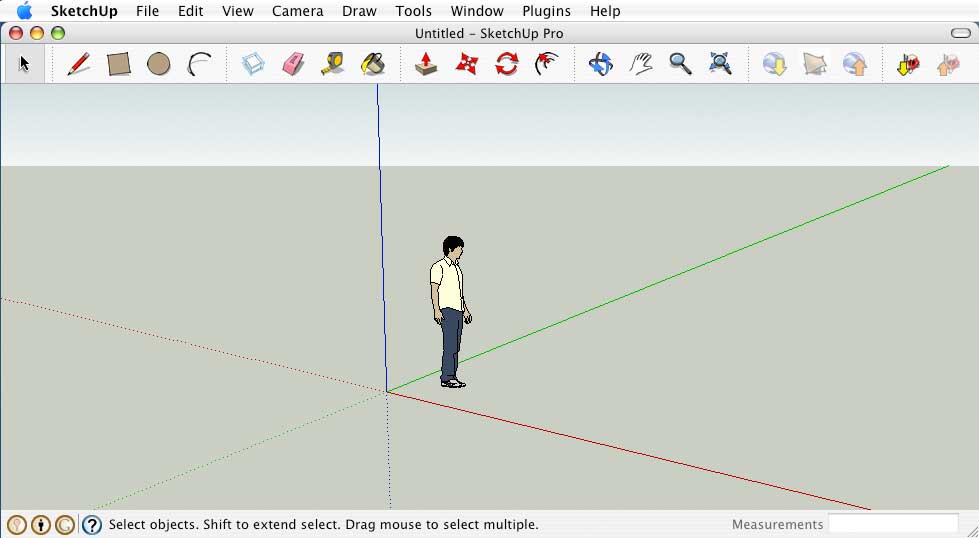 Title Bar
The title bar, at the top of SketchUp, contains the standard window controls (close, minimize, and maximize), the name of the currently opened file, and a title bar collapse/expand button on the right (Mac only). A blank drawing area appears when you start SketchUp and the name of the currently opened file is "Untitled" in the title bar, indicating that you have not yet saved your work.
Menus
Menus appear below the title bar on a Windows machine and at the top of your screen on a Mac. The majority of SketchUp tools, commands, and settings are available within these menus. The menus are: SketchUp (Mac only), File, Edit, View, Camera, Draw, Tools, Window, and Help.
Toolbars
The toolbars, appearing below the menus and along the left side of the Windows application, contain a user-defined set of tools and controls. By default, the toolbar contains the basic set of SketchUp tools, referred to as the getting started tools. Additional toolbars can be displayed by selecting the toolbars under the View > Toolbars menu item.
Drawing Area
The drawing area is where you create your model. The 3D space of the drawing area is identified visually by the drawing axes. The drawing axes are three colored lines, perpendicular to each other. These axes are helpful in providing a sense of direction in 3D space while you work.
The drawing area also contains a simple model of a person to give you a sense of 3D space.
Status Bar
The status bar is the long gray rectangular area at the bottom of the drawing area.
Windows


Mac


The left side of the status bar contains buttons to geo-locate, claim credit, and sign in, respectively. The middle area contains a button to show the instructor and displays tips for the currently used drawing tools, including special functions accessible using keyboard shortcuts. Watch the status bar to discover advanced capabilities of each of the SketchUp tools.
The Measurements Toolbar, located on the right side of the status bar, displays dimensional information while you draw. You can also enter values into the Measurements Toolbar to manipulate currently selected entities, such as creating a line of a specific length.
To the right of the Measurements Toolbar is the window resize handle which is used to change the size of the application window and drawing area. You can also make the window larger so you can see the entire message in the status bar.