Paint Bucket Tool: Groups and components

Painting groups and components
Materials can be painted on entire Group entities or Component entities or to the individual entities within the group or component. To assign materials to an entire group or component:
Select the Paint Bucket tool. The cursor will change to a paint bucket and the Material Browser is activated. The Materials Browser contains libraries of materials you can paint on faces in your model.
Select a materials library using the drop down list box. SketchUp contains several default materials libraries, including landscape, roofing, and transparent materials.
Select a material from the library of materials.
Click on the group or component you want to paint. The faces will receive the material.
If you select multiple groups or components using the Select tool, clicking on the selection with the Paint tool will paint all of them with a single click.
Note: If a face within a group or component is already painted with a material (other than the default material), before applying a material to the entire group or component, the face will not adopt the new material. For example, the windshields, bumpers, and tires in the following image were already painted before a material was applied to these components. Therefore, the windshields, bumpers, and tires maintained their original material.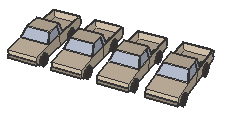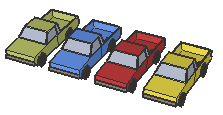 Note: Exploding a group or component assigns the object materials to any elements assigned the default material, thus making the material override permanent.