Pushing and pulling a curved face
You can use the Push/Pull tool on faces that have an arc as an edge similarly to using the Push/Pull tool on regular faces. The curved face that results from the push/pull operation is called a Surface entity. Surfaces can be adjusted as a whole, but are comprised of a number of faces or a curved face set.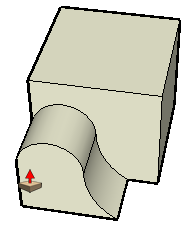 Tip: Select View > Hidden Geometry to view and manipulate the individual faces in the surface.