Edge Splitting Behavior (SketchUp 6 versus SketchUp 7)
SketchUp 7 edge splitting behavior increases productivity over the overlapping edge behavior in SketchUp 6.
Overlapping Lines in SketchUp 6
Edges or lines that overlapped in SketchUp 6 did not split at the intersection point, often requiring you to retrace lines or use the Intersect with Model feature to manually split them. For example, draw a simple 2D window by creating a square and then drawing two single lines. Draw one line from the middle of the top edge to the middle of the bottom edge. Draw a second line from the middle of the left edge to the middle of the right edge. This shape, in SketchUp 6, yields ten edges and two faces:

If you want four faces, one for each pane of glass, you must retrace the four segments that make up lines 9 and 10 into four individual edges.
Edge Splitting in SketchUp 7
Overlapping edges are automatically split in SketchUp 7. Therefore, drawing a 2D window using the process explained previously automatically yields 12 lines and four faces:

Additional Examples
Following are some additional examples of overlapping line treatment between SketchUp 6 and SketchUp 7.
Overlapping Circles in SketchUp 6

Overlapping circle shapes in SketchUp 6 results in two faces:

Overlapping Circles in SketchUp 7

Overlapping circle shapes in SketchUp 7 results in three faces (edges split where they intersect):

Overlapping Lines Forming a Star in SketchUp 6

Overlapping lines forming a star in SketchUp 6 results in no faces: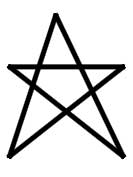 Overlapping Lines Forming a Star in SketchUp 7

Overlapping lines forming a star in SketchUp 7 results in six faces: