Shadows settings dialog box
Search the Knowledge Center...
Shadows settings dialog box
The Shadows dialog box is used to control SketchUp's Shadows feature, including display, time and date, and site location and orientation. You can also use the Shadows toolbar control to control shadows. Activate the Shadow Settings dialog box from the Window menu. The following image contains a screen shot of the Shadows Settings dialog box on Microsoft Windows: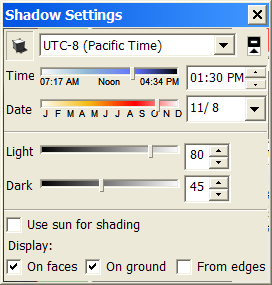 Note: Ensure you have set the proper location for your model set through the Location panel of the Model Info dialog box for accurate shadow casting.
Note: Daylight savings time is not factored into shadow calculations.