Raster File Formats
Search the Knowledge Center...
Raster images are made up of individual square colored pixels that, when combined, form some image. SketchUp supports several different raster image formats, each of which has its own particular advantages and should be selected depending on the task you want to perform.
JPEG (Joint Photographic Experts Group)
JPEG image files enjoy wide support across many applications, computer platforms, and digital cameras. The most prominent feature of JPEG is its compression scheme, which can reduce file size to a fraction of other formats. This compression scheme makes the JPEG format particularly useful for sending images, such as digital photographs, using email or for viewing on the world wide web.
Tip: Consider using JPEG if your image contains lots of textured areas or fine detail.
JPEG compression works so well because it analyzes an image, divides it into blocks, and then discards the information which the human eye does not readily perceive. However, this high-level of compression yields a lower image quality and therefore, sometimes resulting in blocky patterns of color referred to as artifacts. JPEG images are referred to as lossy because data is actually lost during the compression process and an uncompressed JPEG file will never be identical to the original file.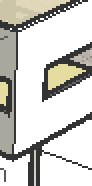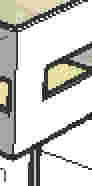 The previous image shows the artifacts resulting from JPEG compression (in the right-most portion of the image).
Fortunately, you can adjust the amount of JPEG compression to suit your needs using the File > Export > 2D Graphic Options > Image Quality slider bar.
Tip: Resaving a JPEG image multiple times can result in compounded artifacts. Work with original raster images in a non-lossy format, such as PNG, before saving to JPEG for final output.
PNG (Portable Network Graphics)
The PNG format was developed for transferring images efficiently over the world wide web without data loss. Like JPEG, PNG does use compression, but it is a non-lossy variety that is free from artifacts.
Tip: Consider using PNG for models that have large areas of solid, uniform, colors (such as non-textured SketchUp models).
TIFF (Tagged Image File Format)
The TIFF file format is often used to exchanged files between applications and computer platforms (Mac and Personal Computers). There are a large number of variations to the TIFF format available, and therefore TIFF might not be as universally accessible as other formats such as PNG and JPEG. SketchUp supports as wide a range of TIFF formats as possible, and you should test compatibility with other applications before exporting to TIFF file. 1-bit raster files, or TIFF files with gif encoding, are not compatible with SketchUp.
Also, while formats such as PNG and JPEG are viewable by any web browser and can therefore be sent to virtually any other person with good chance of success, TIFF files may require additional software to be viewed on some systems. TIFF is primarily used for high-resolution printing from desktop publishing applications.
Note: SketchUp does not support TIFF files at 1 bit per pixel. Images compressed using RLE will expand to uncompressed sizes once imported into SketchUp.
BMP (Bitmap)
The BMP file format was created for Microsoft Windows operating systems primarily as the format used for the Microsoft Windows clipboard and for viewing (especially as wallpaper). BMP does not use compression. Therefore, BMP can be useful for creating temporary files to be further modified in other applications. However, BMP tends to create very large files that are not suitable for archive, web, and email use.
Epix
Epix is the native format of Piranesi which is an architectural painting application designed to work with images generated from 3D models. See Piranesi Epix Export for more information.