Introduction to the LayOut Interface
< | Next: Selecting a Template >
The LayOut user interface is designed to be simple and easy to use. Images of the LayOut interface follow:
Windows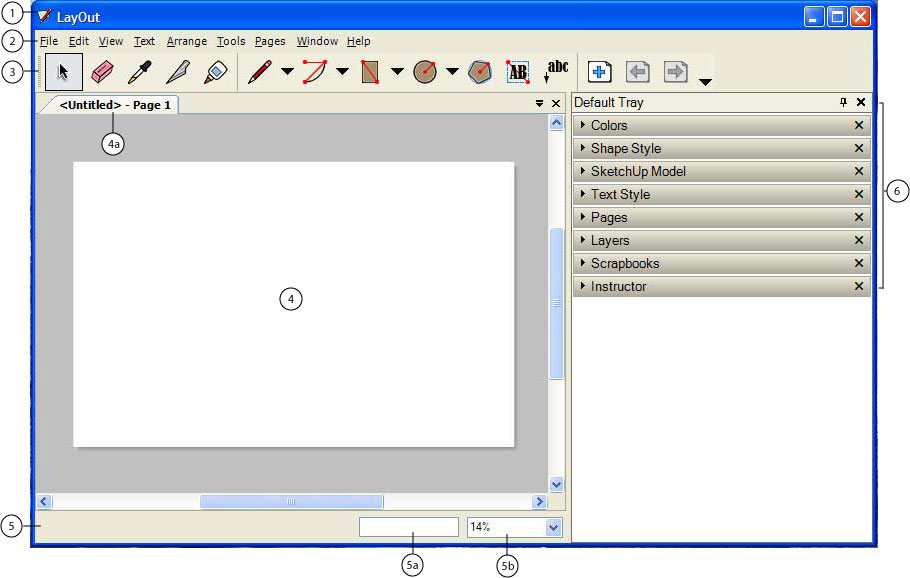 Mac OS X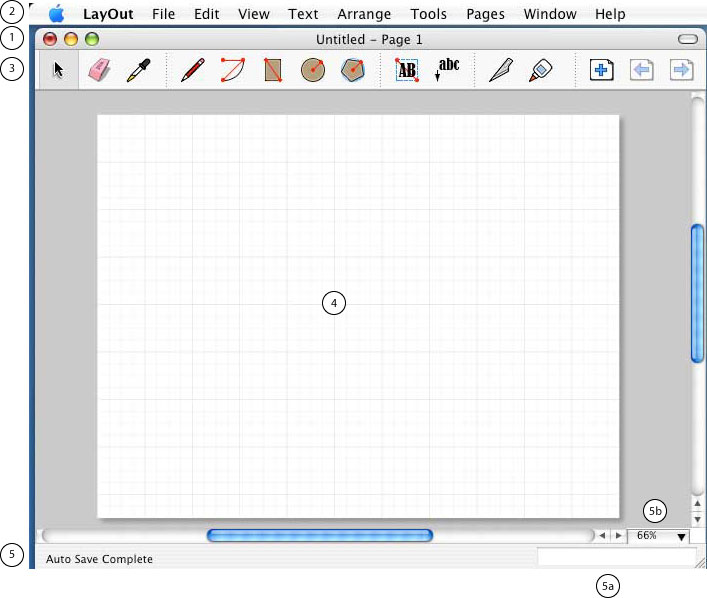 Title Bar

The title bar contains the standard controls (close, minimize, and maximize). On a Mac you also have a toolbar collapse/expand button on the right and the name of the currently opened file and page appears in the middle of the title bar.

Menus

The majority of LayOut tools, commands, and settings are available within the menus. The menus are: LayOut (Mac only), File, Edit, View, Text, Arrange, Tools, Pages, Window, and Help.

Toolbar

The Toolbar contains a default set of tools and controls. Controls can be added to the toolbars using the View > Toolbar > Customize Toolbar menu item.

Undocking a Toolbar
Toolbars can be undocked on the Windows version of LayOut. Click and hold on the toolbar grip (on the left-side of the toolbar) to undock and reposition the toolbar.
Document Area

The document area is the rectangular area below the toolbar where you create your document. You can have multiple documents open at the same time. On a Windows machine, each document will appear under its own tab below the toolbar. On a Mac, each document will have its own toolbar, document area, status bar, and Measurements field.

Status Bar

The status bar is the long rectangular area at the bottom of the document area.

Windows


Mac


The left side of the status bar displays useful tips for the currently used tool, including special functions accessible using keyboard shortcuts. Watch the status bar to discover advanced capabilities of each of the LayOut tools.

Measurements Field (5a)
The Measurements field is located on the right side of the status bar and displays dimensional information while you draw. You can also enter values into the Measurements field to manipulate entities while they are drawn, such as the number of sides in a polygon, size of a rectangle, the degree of rotation, and so on. Zoom List (5b)
A list of pre-defined zoom values appears to the right of or directly above the Measurements field. Click on one of these zoom values to zoom into your document a pre-defined amount. Select 'Scale to Fit' to scale your document to fit in the document area.